Address: 25 Commercial Rd, Helensville
Phone: (09) 420 8025
Website:helensville.co.nz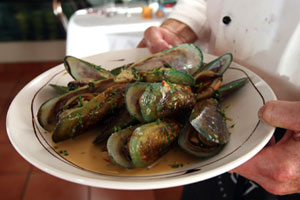 We'd heard about Porcini restaurant on the grapevine, and were mildly dismissive. A seriously good restaurant in Helensville? Give us a break.
But the idea was also intriguing. Porcini is not hard to find. It sits in Helensville's main street on your right heading north and the sign, Porcini, stands out in an area famous for old-fashioned Westies.
Nor are there many restaurants hung with copies of old masters' paintings, art deco glass and a connoisseur's collection of mirrors, furniture and ornaments, in this part of town. But at Porcini even the tablecloths are thick, white damask and our chairs genuine bentwood.
The moment we negotiated the bikies on the porch and stepped though the door of Porcini, we were seriously interested. We were shown to our table opposite the kitchen by an enthusiastic maitre d', sneaked a look at the specials board, scented the aroma of garlic and, yes, mushrooms in the air, noted our fellow customers, many of whom looked as though they'd stepped off the set of Outrageous Fortune, and clinked our water glasses.
This was going to be a great night after all.
And so it was. The Gamekeeper's Pizza ($20) was just how we like it: thin crispy base topped with hunter's sausage, chorizo and other meats on home-made tomato sauce and fresh herbs. It was plenty as an entree for three of us. Meanwhile Brian's mussel special ($14.50) was a knockout: fat but tender mussels in a fragrant soup of coconut cream, spiced with chilli and lemongrass that lifted the flavours without drowning them. It turned out to be the order of the night.
Porcini's menu is improved by an interesting specials board and strong on seafood, which is unsurprising given that Helensville sits on the side of the mighty Kaipara harbour. We chose both the ubiquitous snapper and also the hapuku special ($36.90). Both came cooked to perfection. My hapuku was baked with scallops and swimming for this last time in a creamy, wine sauce. It takes a very good chef to bake both scallops and a thick fillet of fish together without over-cooking either, but owner and chef Peter Brennan pulled it off. The scallops were perfect and the hapuku cooked to that silky, soft stage that's perfection too.
Suzanne was overwhelmed by the size of her snapper special ($36.90) and even more impressed by how beautifully cooked it was. The meat-eaters were similarly pleased, both by the choices on offer and also the hearty, interesting way they were cooked. Eugene was well satisfied by his chicken parmigianino ($30.90) which arrived spicy and succulent. Brian was won over by Porcini's twice-cooked duck ($36.60) - a hearty Westie-sized serving.
All this was accompanied by some of West Auckland's best local wines: Kumeu River's Village chardonnay, Villa Maria gewurztraminer and a mellow, delicious, Stoneleigh riesling.
Throughout our meal the restaurant was filling and refilling with a disparate crowd, everything from family groups seeking thin and crusty pizzas from the built-in pizza oven, to polished townies, to the table of bikies who took half their meals away in boxes.
The desserts ($12 each), once again, were mostly up to city standards. The affogato and the apple and rhubarb crumble especially were true to their classic versions, a relief. Sadly, however, the tiramisu was bland and boring.
Rating out of 10
Food: 8
Service: 8
Value: 7
Ambience: 7
Our meal: $256.40 for one pizza and one entree, four main courses, four desserts and five glasses of wine.
Wine list: BYO plus a well-thought-out list featuring the best of local Westie wines alongside the usual favourites from here and abroad.
Verdict: At last, a seriously good cafe/restaurant in Helensville, offering simple but quality cuisine, superb service and great value for money.