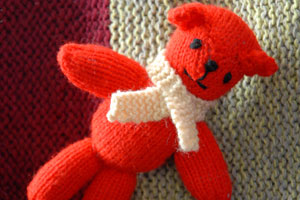 When I was just a wee little boy I had a golliwog. I was very attached to him. They may have fallen out of acceptance these days, but back then they were big. He was woollen and I had this habit of rubbing him between my thumb and first few fingers. It felt nice. The bond was similar to how some kids have "comforters" or suck and stroke their dirty but ever-so loved blankies.
One day though, sometime around Easter, my golli disappeared. Mum and Dad said the Easter Bunny took him to help out on his annual easter egg rounds.
Of course I was a little upset, but from memory I got over it as quick as you can say "motorbike".
This week, 35 years later, my wife and I found ourselves making up a similar story to disguise the disappearance of my little Mia's beloved comforter called "Bunny".
She actually has - or had, as the case may be now - two bunnies because one started looking more like road kill than something cute and cuddly.
You see, when we went away on our Easter holiday we forgot - honestly, legitimately forgot - to take a bunny with us.
But she did so well with out him during the four days - asking for him only once or twice at night time - we thought it was the perfect time to say bye bye bunny.
We had been thinking about trying to wean her off it anyway - and her daycare prefers the kids don't rely on comforters during the day.
So when we got home we told her bunny had gone on holiday. She hardly blinked, probably content that her bunny was having a similarly fun, chocolate-filled break just like the one she'd had.
And she's only asked for him three times since Monday night.
You might think it heartless and mean to take her bunny away from her. And while it's probably better for a little one to give up their comforting vice when they are ready, who knows when that's likely to happen?
It's not good for older toddlers, and five- and six-year-olds especially, to be reliant on comforters and to feel safe only when they've got their manky blankies. Kids get teased for those sorts of things.
We were of the belief it had to happen sooner rather than later. And what's the matter with telling a fantastical little tale to soften the blow?
Just say the fairies took it, or you could even blame the Easter Bunny, it never did his reputation with me any harm.