Herald Rating: 7.5 out of 10
Address: 15 Queen St, Pukekohe
Phone: (09) 09 238 1607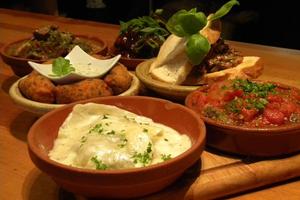 Jet lagged and no longer finding eating out a novelty after two weeks of travelling overseas, you could say that I was not in the most ideal state to review a restaurant. So it was with some trepidation that I arranged to meet three foodie friends (two of whom are in the hospo trade themselves) after work at "Franklin's only tapas restaurant", in the heart of Pukekohe township. Poco Loco, translating to "a little bit crazy" in Spanish, was kind of how I felt.
Our initial impressions were of a modest eatery, perhaps even slightly sterile in style but all that changed as soon as we were greeted by owners Jan Purdy and Brenda Laverick. With their Northern English accents they welcomed us with their downright friendly, happy-to-have-you-dine-with-us style that warmed us up immediately.
The menu at Poco Loco offers a selection of 19 tapas, catering for everyone's hunger levels and taste preferences. Ordering is made as easy as possible with their pricing strategy - each dish is priced at $12 or you can order a platter made up of your own tapas selection. Eating the Mediterranean way is great - it's casual and sociable as plates of food are passed from one end of the table to the other for each person to try a bit of everything and then try a bit more of their favourites.
We were extremely happy with our choices: the Mediterranean blue cheese and mushroom balls were crisp and golden without being overly greasy (they hadn't scrimped on the blue cheese either); the slow-cooked Italian-inspired lamb was melt-in-the-mouth and the seasoning of cinnamon and oregano just right; the bruschetta packed a punch with a topping of feta, tomato and olives.
Mid-way through our feast we all tackled the warm, fresh figs stuffed with feta and drizzled with honey. These provided the perfect palate-cleanser and taste sensation all in one. And how marvellous that chef Ryan Thom was taking full advantage of a local delight that has such a short but spectacular season. Refreshed we carried on feasting with plates of succulent prawns in olive oil and garlic that were cooked perfectly, tasty Italian meatballs and chicken goulash. All the chicken at Poco Loco is free-range and sourced locally.
Disappointing, but only slightly, were the crispy chicken pieces that tasted a bit processed in their sticky hoi sin sauce and the mushroom ravioli which, though commendable for the home-made pasta, seemed a tad under-seasoned compared with some of the other dishes. But let me be clear, these were minor slip-ups in a banquet of delicious and innovative dishes.
I also learned a valuable lesson in being a know-it-all. I'd vetoed ordering the lemon pepper calamari saying that they would likely as not be the usual - nice enough but unsurprising. On spying a dish on the neighbouring table that looked spectacular I enquired of the waitress what it was. You guessed it - the chefs' speciality, the calamari. What was more, the owner Jan forbade me from adding it to our order claiming that it would push us over the edge and we would leave feeling too full. I love a bossy waitperson sometimes and she was absolutely right as it gives us a reason to return.
Hearing that all the desserts were prepared on the premises we couldn't resist a sticky date pudding, chilled lemon cheesecake and chocolate mousse. You could taste the love that this team has for their food.
Very clearly this is a place where the locals come to dine. There's an air of familiarity and casualness that is working really well for them. Poco Loco is a case in point for what a difference great service can make when eating out. We all agreed the evening had been an enjoyable experience not just because the food was easily up to scratch nor because the ambience was anything remarkable, but because the staff were so engaging, upbeat and cared about their customers. There's no substituting for that.
Poco Loco was just what I was looking for in a homecoming - genuine NZ hospitality and food inspired and informed by the seasons.
My recommendation: book now while the fresh figs are still in season, you won't be disappointed.
From the menu: Blue cheese and mushroom rice balls; fresh figs with feta & honey; prawns with olive oil, garlic and sherry; patatas bravas; chicken goulash; mushroom ravioli; slow-cooked Italian lamb; bruschetta with olive, feta and tomato topping; crispy chicken pieces in hoi sin; Italian-style meatballs. All $12 per plate. Lemon cheesecake; chocolate mousse; sticky date pudding. All $12 each.
Drinks: Fully licensed. Good selection of wine by the glass.
(Ratings guide - 1-4: not good enough. 5-6: ok but needs work.
7: recommended. 8: excellent. 9-10: outstanding, book immediately.)