THE CATERER
Leny Woolsey, events manager and wedding designer, Austin's Food Design Events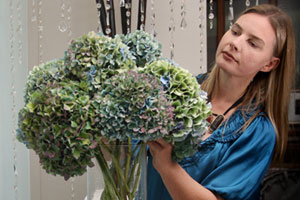 How did you get into the world of wedding/event catering?
In 2009, I moved to New Zealand having worked as a party designer for The Admirable Crichton in London for three years. By happy coincidence, another former Admirable Crichton employee, Andrew Billingham, was at that stage head of event management for Austin's Food Design Events in Auckland. The similarities between the two companies were very apparent and I was delighted to be asked to join the team at Austin's.
What changes have you seen in wedding food?
Food tends to be less formally served and the emphasis is leaning towards "interactive" service styles such as dessert buffets or platters on tables. More and more global influences are hitting New Zealand's shores and this is reflected in food choices..
Presentation and styling of food is also increasingly important. What may have been acceptable 20 years ago is no longer considered "en vogue" and great efforts are made now to ensure food not only tastes good but also looks beautiful when it arrives at the table.
What are the biggest trends in wedding food/catering at the moment?
Austin's has a range of tiered platters which are incredibly popular. We often serve our finger-food style desserts using these "high tea" style cake stands. We are finding that many wedding clients wish to offer their guests a choice for at least one of the courses, and often both.
What advice would you give a couple when planning the food for their wedding?
Think carefully about the timings of the day and how they relate to food: consider each separate period of food service and how long it has been since most of the guests will have eaten. If your ceremony is later in the day, or particularly long, you will need a large number of canapes/ fingerfood at the start of the reception as people will be hungry. Having said that, if it is a short reception and your meal starts immediately afterwards, be careful not to overload your guests before they sit down for dinner.
Don't try to cater for everyone's tastes in the main guest menu. Despite best intentions, it is impossible to please everyone. Choose a menu that you like and that is not too "extravagant" - it's important that the wording is clear so that your guests understand what they are eating. There will always be a distant relative who has an intricate dietary requirement and as long as this is known in advance, any good caterer should be able to prepare for this.
In order to make a wedding more personal what would you suggest?
At a wedding that I planned recently, the bride wrote individual notes on the back of each place-card which, although time-consuming was a beautiful way for her guests to take a truly personal memory away with them.
In extreme situations, such as a boat wedding venue, it can be helpful to provide a full range of guest services for example, first aid kits, vanity items, hangover packs for the day after etc.
Many clients say to me that they want their wedding to be "different". A word of caution - there's a fine line between being charmingly refreshing and just plain wacky. Try to think as your guests will on the day. Which are the parts of the standard format that are the most enjoyable and which could you do without?
Finally, use the resources available to you. If you have a cousin who is excellent at origami, ask them to design your napkin fold. If Aunty Mary makes a great chocolate cake, ask her to do the wedding cake - it doesn't necessarily need to be a four-tiered masterpiece. Often a stack of delicate cupcakes or a simple two-tiered classically iced cake can be all that's required.
How far ahead do people need to book?
It is wise to pencil a provisional booking with Austin's between 6-9 months in advance of the event. Once this has been achieved, we find that most of the specific planning can be done in the month preceding the wedding, particularly if it is to be held in our usual venues, The Edge or The Auckland Museum. For weddings and events held in venues we are less familiar with, or if the event requires complex planning such as marquee/production design, we would usually be working closely with the client from between 4-6 months in advance of the wedding.
THE SHOW ORGANISER
Lisa Charteris, The Grand Wedding Show director
Are you married?
Yes I'm married. We got engaged at 17, married at 21 and our 10th wedding anniversary is coming up this year. My husband Nick is a wedding DJ and professional MC. We were married at the Copthorne Resort in the Bay Of Islands. Both Nick and I come from Northland originally so we liked the idea of going back up there to get married.
Describe your wedding day?
We basically had our wedding over an entire weekend. We booked out the Copthorne Resort where all of our guests stayed. Our ceremony was held at the Waimate Church with the cocktail reception at the resort. We didn't really like the idea of a sit-down buffet type reception, we wanted our guests to be able to mix and mingle while having drinks and continual cocktail food on the waterfront of the resort instead of having to sit down for most of the night. Everyone then went into the ballroom for the formal speeches and we ended the night with, of course, a DJ.
What are people looking for with weddings today?
Brides are definitely going for the unique and different, they really want to make their wedding stand out from all the others and will break from the traditional to do this.
There are new companies popping up all the time that offer very unique and different options for couples which is very exciting to see. From very funky wedding favours, to paperless wedding invitations, to video kiosks that you can set up at your wedding for your guests to video and record special messages for the couple, there really are some amazing products and services on offer these days.
What advice would you give to a couple planning their wedding?
The best piece of advice would be that it's never too early to start looking and planning for your wedding.
Some companies are taking bookings two to three years in advance and the couples who leave things to the last minute thinking it will be OK, often find out that the companies they wanted are already booked.
You don't need to have all of your plans set in concrete, but it doesn't hurt to start looking and getting ideas early.
The Grand Wedding Show: Sun 11 April, SkyCity Convention Centre, Auckland. Tickets $15, ph 0800 287000 or weddingshow.co.nz.
THE FLORIST
Susan Christensen of Orlando Florists
Are you married?
Not married, just having a long love affair with mother nature!
How long have you been a florist?
I've been a florist for 24 years and have had Orlando for 10 years. We solely design weddings, events and parties.
What is the most gorgeous bouquet you have ever made?
One that comes to mind was made completely from wired orange blossom which was all hand-picked by me in the pouring rain the morning of the wedding.
What is the strangest?
In the eighties I had to make a bouquet suitable for a sci-fi look, white lilies with pieces of metal and wire. The bride and groom both wore space suits.
What are your personal favourite flowers for a bouquet?
Lily of the valley; they are very, very hard to get and only really available in the month of October.
When it comes to wedding flowers what are the biggest changes you've noticed?
The style of bridal flowers generally follows the look of the current fashion trend, so over the last four years there has been a real resurgence of the vintage/glamour look, the size of the bouquets are more delicate and there is a focus on the craftsmanship.
What are some of the new flower ideas and options out there for people to make their wedding different?
You can focus on a colour injection, blocking colours and textures, especially a focus on textured foliage and berries.
We recently designed a wedding where the bride carried a collection of terracotta roses and fire-coloured rosehips, the bridesmaids wore black and carried bouquets of only rosehips, finished with long drops of terracotta coloured ribbon for a drama aspect.
When planning flowers for a wedding what advice would you give people?
Do some research on the flowers you might like and if they are in season at the time of your wedding.
Select your fabric colours before you visit a florist ... it's very difficult for us to be helpful if we are guessing at colours and I'm afraid the colours green and pink come in hundreds of different shades. It's also very helpful for us to know the flower budget you are working towards, then we can prioritise to ensure you are getting the best value possible from your flowers.
There has been a huge change over the last two years with regard to the timelines the brides are giving us to plan and design their dream weddings. Some clients are only contacting us 6-8 weeks away from a wedding date, and it seems to be the general topic of conversation through the wedding industry. The the finer detailed planning of the wedding is getting left in the "to do pile". We would all love to see you this winter to give you ideas and inspiration for your weddings for summer 2010-2011.
Orlando Flowers, Ground floor, George Courts Building, 238 K'Road, ph (09) 377 2840 or orlandoflowers.co.nz.