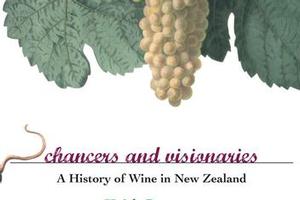 Wine lover, writer and author Keith Stewart says he's been writing his book Chancers and Visionaries (Godwit, $49.99) all his life.
It was launched this month in, among other places, Waitangi, where James Busby planted the first vineyard in New Zealand. At present Stewart is discussing the replanting of that little-remembered vineyard. He is a freelance wine writer, author and host of the food and wine show Taste Life Live on Radio Live every Saturday night. He also wrote the wine column for the Listener for 21 years.
There weren't many wine writers around in the 1970s. Where was your first wine column and what was it about?
After travelling in Europe in the 1970s I had a lot of wine knowledge and in those days wine writing was about knowledge rather than writing ability.
I'd been in the hospitality trade for a long time and Sharon Crosbie on National Radio asked me to do a regular wine spot on her show.
I wrote features rather than columns initially for the Listener. The first story was how to start a wine cellar.
What's the single biggest change you've seen in New Zealand wine since then?
The change from sugar to grapes. It's easy to laugh, but in those days the legal definition of wine was that it had to contain grape content. There was no way in hell we could make decent wine the way we made it in those days. The entire industry was obsessed with the price of sugar. It was bizarre.
Who triggered that change?
I dedicated the book to Denis Kasza, who had a science degree in grapes, and made the outrageous comments back then that grapes could be ripened if they were just left on the vine for an extra two weeks. The entire wine population in West Auckland wouldn't talk to him after that. He ran trials on grape varieties and vineyards, which changed the industry.
Who are the most important innovators?
Alex Corban was incredibly important in a winemaking sense, as was - and is - Larry McKenna from Escarpment Vineyard; John Buck from Te Mata; Alan Limmer from Stonecroft Wines; and Denis Irwin from Matawhero Estate. People will have never heard of Ross Spence, but pinot noir would not have happened without him.
Who inspired the title of Chancers and Visionaries?
There were two sorts of people in this country's wine industry, both in early colonial days and in the 70s and 80s. I would say people like Tim and Judy Finn from Neudorf Vineyard near Nelson are visionaries; Frank Yukich was a chancer.
What's the book's main message?
There are a million great stories to tell, like New Zealand winemakers going to London where they were laughed at for having a young wine culture. They turned that around. That's a fantastic story.
How much do you think good New Zealand wine was a pass-mark of arrival into the rich established cultures of Europe?
The Europeans set the wine standards. Just look at the pinot noir conference we hold every three years. I think it's exceedingly dangerous when the industry in New Zealand treats its own critics with scant regard, paying the biggest homage to international critics. We have to sell our wine internationally so we need international support and I respect that. On the other hand, it's the people close to the ground here who have the most telling influence.
What's the next step for New Zealand wine?
In the high-quality, handcrafted wine we do so well. If we think we can compete with the rest of the world having factories that pump out large quantities of sauvignon blanc, we're kidding ourselves. The only people who will benefit are large corporates. The minute they're not making a profit they'll be gone. It's happened before and it will happen again.
What's the answer?
Restructuring our industry to represent the community in New Zealand rather than offshore owners of some wineries.