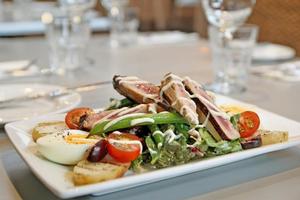 There must be a word that means the exact opposite of trendy but I can't quite bring it to mind. Whatever it is, you don't expect to find it in one of the newer places in Ponsonby but Bistro 222 seems to have decided to be the restaurant that time forgot. There is not a dish in the entire menu that could alarm the timid with a hint of novelty.
Here we have prawn cocktail, chicken livers with caramelised onions and brandy cream sauce. There's Caesar salad, scallop mornay and the snapper comes with a lemon beurre blanc. There is prime rib with herb butter and there's even "surf and turf".
Tiramisu is their dessert specialty and there's chocolate cake with berries and vanilla icecream. The creme caramel is described as a blast from the past, a term also applied to the cointreau and kahlua special coffee. There are simple pastas and the influence is vaguely Italian, although I'm not sure what to make of the cannelloni "served in thin crepes traditional French style".
The music, played at acceptable volume, is crooner territory - although if I had my way, the owner of any restaurant that plays O Sole Mio would be liable to the death penalty.
Oddly enough, the overall effect is less of carefully calculated retro and more of an effort to provide an honest feed. If you are going to set out with this modest aim you have to get there and Bistro 222 makes a decent fist of it.
We started with the seared tuna served, it said, on a salad nicoise. The fish was nicely done, just seared enough and rare inside, and the salad included the main essentials of potatoes, green beans, leaves, and egg, although the dressing was more mayonnaise than the classic vinaigrette.
The salmon gravlax was plain, simple and of good quality but its defining characteristic was the generosity of the serving, something which also marked the tuna salad, which would have made a pretty substantial lunch all on its own. If nothing else, a customer is not going to leave here feeling hungry and, as the meals come complete, you would have to be built of stern stuff to order a side dish.
My main course of rack of lamb was good. Pink, as requested, and coated with a mustard and herb crumb. The crumbing approach seemed quite popular as the fish of the day was offered crumbed - "fish and chips" as the excellent front-of-house man described it. We passed on it and went for the scalloppini parmigiana. This sometimes appears swimming in rather unpleasant tomato sauce but here the sauce was thick and not overwhelming and the cheese topping had been treated so as not to be too stringy. As we had come to expect, the veal, nice and moist, was in good supply.
By this time we were more than well stuffed and the creme caramel seemed a light option. So it proved. Hard to get this wrong, although I've seen it done, and they didn't. My mood now was "in for a penny, in for a pound" so I braved the tiramisu. I wished I hadn't but that was no reflection on the dessert itself, which was not a bad example and with a good coffee flavour.
We staggered out feeling less like Ponsonby beautiful people and more like sumo wrestlers.
Rating out of 10
Food: 7
Service: 7
Value: 7
Ambience: 7
Our meal: $173.50 for two entrees, two mains, two desserts and four glasses of wine.
Wine list: A reasonable list with the glass selection offering our choices of Chard Farm pinot gris, a good Sileni syrah and Gibbston Valley pinot noir.
Verdict: Comfort food in comfortable and spacious surroundings with a mixed bag of customers, from the Ponsonby set to families out for an easy evening.