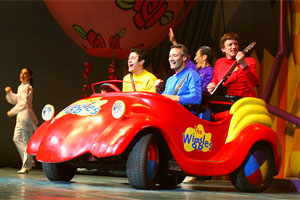 It seems like only yesterday that I was writing a blog about my son meeting the Wiggles.
But of course that was a year ago, when they were in New Zealand last. At that time, they were doing interviews with TV3, which is why we had the privilege to meet them.
This year, I notice the kids of TVNZ have had the little gift of an impromptu Wiggles concert in the central foyer of the mothership.
I had to laugh to see Mark Sainsbury interview the Wiggles. Nice guy that he is, he looked a little stunned that four guys as old as him were still engaging in horseplay with preschoolers - and making millions in the process.
They really are getting on those Wiggles - the big joke at the concert we trouped to on Sunday was that Jeff (who is always falling asleep) has just received his senior card!
Still, they packed out Vector arena for four concerts back-to-back in the weekend. We were among the thousands that dressed our kids in their Wiggles paraphernalia and shovelled along.
I had left the ticket buying late, alas, and it felt as though we were seated somewhere on a cloud over Tuakau, although we could still just vaguely make out Dorothy the Dinosaur krumping from our far distant position.
This year the kids were healthy, older, and right into it (although I think they would prefer the awful-sounding Thomas stage show even more!).
Last year, after flying all the way to Christchurch to see the Wiggles, my son actually slept all the way through it because he was sick (I didn't realise how much before taking him, in my defence). Luckily I love the Wiggles or else it would have been an exercise in absolute futility!
However, there is one major niggle about the Wiggles concerts of the past few years - and it's not to do with the $20 balloons that the kids whine and nag for.
It is a constant bane for New Zealand parents that the Wiggles focus so heavily on their later output, leaving most of their classics out of the line-up. That's because in New Zealand we mainly only get the older series of The Wiggles on kids TV, when Greg was the main singer and the act focused less on acrobatic circus performers and more on catchy tunes.
And while the acrobats do keep the kids somewhat amused, it really isn't the same as being able to sing along to Big Red Car and Here Comes The Bear.
Ali actually leaned over to me at one point and asked when the Wiggles would start singing. At that point in the line-up they had had their "ringmaster" sing a great deal, performed lots of handstands, and let the highly excitable crowd sing large parts of each song.
It has to be said, when all is said and done, that the Wiggles still put on a damn good show.
As I walked up Symonds Street trying to find a bus stop in the searing heat with two helium balloons hitting me in the face, tripping up on the balloon strings every five metres; with one child asleep on Ali and one tuckered out from the exertion, I felt on balance it was a great afternoon's entertainment had by most.
I still would have loved to hear Big Red Car though!