Rating: 3/5
Where: 265 Ponsonby Rd, Ponsonby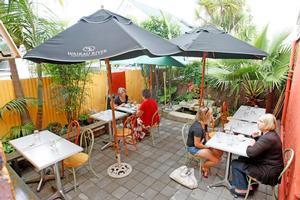 We came here because a visit to Ponsonby's boutiques was called for, but first there were hunger pangs to satisfy.
Parking was scarce, but we managed to find one not far away after a trip around the block.
We walked in and immediately thought the inside seating resembled an old-style French bar, while the "secret garden" outside gave a lovely ambience in the middle of the built-up suburb. However, on one of Auckland's muggiest days, even the fresh air was not pleasant.
The most unusual thing on the menu was a toss-up between the nutella and almond crepes and the French toast-style crepes.
We ordered an Oceane crepe with smoked salmon, sour cream and chives and avocado ($16.50), Normande crepe with apple, cinnamon and bacon ($12.50) and, for our traditionalist (when in a French cafe, eat breakfast as the French do), the special French breakfast of coffee, toasted baguette and a croissant ($9.50). All were pronounced "parfait", although the our traditionalist thinks he'll opt for the crepes next time.
The service was super friendly.
The coffee was good, as was the hot chocolate.
We recommend if you come here go and sit in the garden and enjoy the water feature - as long as it's not too humid.
Overall we thought a return visit when the weather is less oppressive would be on the cards - perhaps to try those French toast crepes.