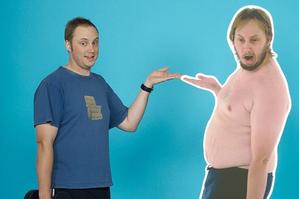 Reality television has been accused of dumbing down the nation, but a study suggests some shows could be good for children.
Massey University PhD student Jacinta Hawkins looked at the influence of TV programmes on children's health knowledge, attitudes and behaviour.
She said programmes which featured obese people, such as The Biggest Loser, seem to be putting children off eating junk food.
"The grotesque appearance of overweight people on television is making children say 'I don't want to grow up like that'. What they see on screen is a potentially powerful influence."
The research was part of Ms Hawkins' thesis on how schools promote health.
She spoke to 92 children, aged from 7 to 13, from six Auckland primary schools to find out how they received information on nutrition and physical activity.
Some said they learnt from television news programmes, but most mentioned reality shows such as Fat Chance, Honey We're Killing the Kids and Downsize Me.
Earlier studies had considered the effect junk-food advertising had on children, Ms Hawkins said, but messages within TV programmes had not been explored.
"Children at all six schools identified programme content, as opposed to advertising, as a source of food and physical activity messages. They are learning patterns of eating and exercise from television programmes."
The children also recognised that their parents had a role to play in shaping health behaviour.
Talking about Honey We're Killing the Kids, which shows how people will look if they continue with a lifestyle of poor diet and exercise, children said they developed attitudes from their family's habits.
One child said: "People are giving their kids way too much junk food".
Ms Hawkins said children recalled what they had seen and talked about it being the parents' responsibility to lead by example.
Auckland University child psychologist Ian Lambie said reality shows often used bright colours, sounds and language that appealed to youngsters.
"Children model off the behaviour they see from adults in real life and in the media," he said.
"They say 'Okay, if I eat a certain type of food, I will end up being a certain weight'."