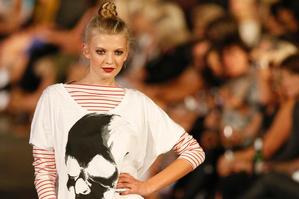 The "New Zealand Fashion Festival" was launched on Tuesday night with a fashion show, the 'beautiful people' (well, mostly - there seemed to be an awful lot of Botox), lots of champagne - and a chip and hot dog stand at the entrance.
Bookended by Workshop and Zambesi, the show featured 10 in-store outfits each from some of New Zealand's top labels, including Kate Sylvester, Helen Cherry, Juliette Hogan, Huffer, Stolen Girlfriends Club, Cybele, Paula Ryan, Trelise Cooper and Hailwood. Ed Hardy provided the comic relief section of the show.
The crowd atmosphere was the best part (but perhaps that's because I've been staring at most of these clothes since they were shown at NZ Fashion Week in September and writing about them for Viva since February) - singer Hollie Smith dancing beside the catwalk, the tipsy fashion editor who flashed her knickers to the other row, the mesmerised faces of those in the front row who had bought tickets (some had clearly been practising their best 'fashion b*tch in the front row' poker face).
The idea of making fashion more accessible to those who might not get to go to Fashion Week is great. The idea of an event that presents fashion to the buying public is exceedingly welcome too - the L'Oreal Melbourne Fashion Festival does it well, as does Dunedin which held their annual fashion week last week. Last year's Fashion's Night Out in New York was a huge success too.
The strength of all of these events is their diversity, and the way in which they break down the barrier between designer and the public. Fashion's Night Out sees the central NYC shopping district open for an evening where models hang out in retail spaces, celebrities act as salesgirls and designers themselves are on hand to chat. Plus, the proceeds go to charity. A one-off fashion show seems a little bit anti-climatic.
However - last night's event was the start of what is set to be a yearly festival with more events and shows, and I am intrigued to see how it develops. It will no doubt be a success - the organisers have been running NZ Fashion Week for 10 years. As it was, last night's show was a sell out.
Perhaps next year though, they could make better use of the designers involved - have them come out and walk the runway so the audience gets to see who is behind the clothes they are coveting - and lose the fried food.