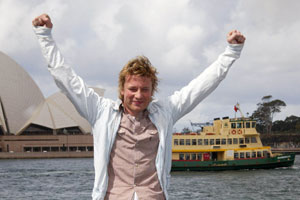 Celebrity chef Jamie Oliver has whizzed into the photogenic city of Sydney to tackle the not so beautiful problem of obesity.
The self-described "professional stirrer" was in town yesterday to launch his "Ministry of Food" cooking school concept.
The concept involves adults and children mastering simple and healthy recipes, rather than reaching for takeaway food, by attending free cooking classes.
What is learned during those classes is ideally then passed onto at least two others.
"When you know how to cook, you've got control over your life and your health," Oliver says.
But food education is fast becoming a thing of the past, the British chef warns.
"As life changes, as we live busier, faster lives ... the fact is the passing down of skills, cooking skills, life skills ...
isn't like it used to be," he said.
Appearing upbeat and slightly dishevelled in faded jeans, sneakers, a checked shirt and his trademark tousled hair, Oliver spoke at Centennial Park's cafe late yesterday afternoon before he moved on to another part of the park to give a free cooking demonstration in front of 2500 people.
Ministry of Food centres are already operating in Britain and the US, and Oliver hopes the concept will include a mobile kitchen and a "bricks and mortar" kitchen in Sydney by the end of the year.
"It can go to a school. It can go to hard to reach areas, deprived areas," he said of the mobile kitchen.
"It's mobile, you can put it outside a football pitch, at festivals, wonderful, it works."
According to the Australian Bureau of Statistics, 37 per cent of all adults were classified as overweight in 2007-08, while another quarter were deemed obese.
Alarmingly, a quarter of all children aged between five and 17 were overweight or obese in 2007-08, up four percentage points from 1995 levels.
Whitegoods retailer The Good Guys is partly funding the cooking school concept in Australia, with an ambassador yet to be announced.
"We believe this initiative has the potential to improve the health and social welfare of communities right across Australia," The Good Guys' chairman Andrew Muir said.
It is four years since Oliver was last in Sydney.
He leaves today, and while he says he loves it in Australia, it may be a little difficult for him to return soon, the charismatic chef warned his fans.
"My wife's pregnant for the fourth time now," he admitted.
- AAP