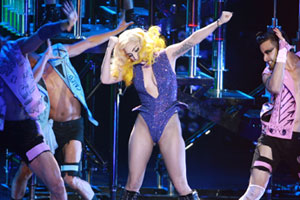 The pop star brought her tour to Auckland this weekend, an on-stage fashion bomb of leather, studs, latex and leotards.
Gaga is as much about fashion and image as she is about music (she told TV host Jonathan Ross recently that she would rather die than let her fans see her without a pair of high heels), and she - and her creative collaborators in the Haus of Gaga - certainly didn't disappoint.
Slightly disappointing however was the crowd.
Where were all the "little monsters", as Lady Gaga calls her hardcore fans? I had hoped for a stadium full of glamour, costumes and fabulousness; drag queens in latex (I saw only one), fashion students in their own amazing avant garde creations and girls in leotards and hair bows.
Instead I saw people dressed up as cows, lots of glow sticks, teenagers in tiny floral dresses and too many sequins to count.
Not exactly "walk, walk fashion baby". That said, Lady Gaga is all about creative self expression, even if it is with cheap looking sequinned fabric from Spotlight.
Gaga's own outfits were far more inspiring; almost overwhelming in their relentlessness. Sixteen costume changes in all, as well as the incredible short films that played between songs, directed by well-known and respected fashion photographer Nick Knight.
My favourite showed a brunette, black-clad Gaga throwing up blue liquid on a blonde Gaga in white. She may take her fashion seriously, but she clearly has a healthy sense of humour.
Gaga's Flying Nun-esque outfit with a plastic dress, habit headpiece and glowing "disco stick" was another favourite, and the white Hussein Chalayan inspired "living dress" and headpiece that morphed and moved as she sang was awe-inspiring - and very, very pretty.
But Gaga was actually at her loveliest when she was stripped of all that finery, frippery and fabulousness, singing at a burning piano in her knickers. Studded latex ones, of course.
Did you go to the concert? What did you think - and what did you wear?