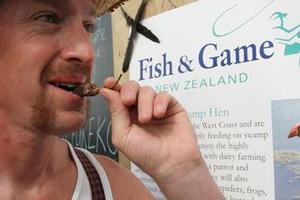 This year's world-famous Hokitika Wildfoods Festival - the 21st - was one of the best yet and will generate up to $3 million for the West Coast economy, organiser Mike Keenan says.
"The West Coast turned on a glorious weekend for the Hokitika Wildfoods Festival and I was delighted with the positive way everyone entered into the spirit of the festival and really enjoyed themselves," said Keenan.
"This is an event which has matured over the years and increasingly offers a real entertainment event, with headline acts like New Zealand rock band Elemeno P playing on the opening night."
Mr Keenan said being listed as one of the world's top 300 Unmissable Festivals this year by UK travel giant Frommers is a recognition of the event's established and growing reputation.
"Our event is based on the Coast's rugged individualism, which we know from experience brings a unique approach to delivering a mix of local and wild delicacies particular to this part of the world. The payoff in terms of exposure to target tourism markets is huge".
An estimated 13,500 well-behaved Wildfood Festival goers were given a range of exotic choices to feast on at the festival from more than 80 stalls this year.
Amongst those running a stall was Robyn Perkins of Christchurch, who has run a stall selling as many as 30,000 wildberry waffles over the last 20 consecutive years.
"The Wildfoods Festival has become part and parcel of what our wider family does every year, and we'll be back again next year."
The best New Food prize this year went to Shayne Wratt for his Glass Eyed Creek Sauce, which carries the imaginative slogan "Tried and Tested on Cooked Animals".
Prize money and all proceeds from Shayne's stall are being put into a fund for the daughter of Dave White, the popular publican of the Little Wanganui Hotel south of Karamea who died after an incident in the Hotel last year.
For the second year running the overall prize for best stall went to the Udderly Divine Desserts stall run by mothers of the Kaniere Play Centre. Their pikelets made with bovine colostrum, the milk produced by the mother cow after the birth of a calf, and 'colostrum shooters' were again a real hit.
Amongst the food items at the 2010 Hokitika Wildfoods Festival was a popular free sampling of Pukeko, described as tasting like a cross between wild pork and venison, which was made available from a limited local cull of the bird, which is not a protected bird.
Food for sale at the Hokitika Wildfoods Festival included the ever-present whitebait patties (10,000 of them), westcargots - snails in garlic butter, duck giblets, mountain oysters, exotic sausages, huhu bugs, worm sushi, pickled and raw punga and wasp larvae ice cream.
- NZPA