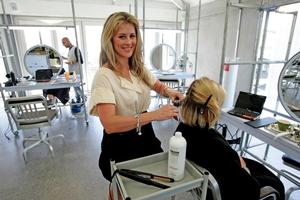 Taming unruly locks into a sleek and dead-straight do is a time-consuming obsession for many Kiwi women.
But there's a new option that doesn't involve struggling with straightening irons - if they're willing to pay up to $800.
Salons in Auckland are offering a treatment that will leave hair straight for up to four months after just one session.
Keratin-based treatments are said to cut out curls and frizz almost entirely, no matter how bedraggled the hair. And unlike chemical treatments, to actually make hair healthier.
Stylist Simone Lawry, a keratin specialist with Stephen Marr, explains: "It's not going to make your hair poker-straight because it works with your own natural movement.
"So someone with really thick, curly hair will still have a lot of volume and movement."
But she adds it will leave hair sleek and smooth and it will also dry quicker.
The treatment involves a painstaking, virtually strand-by-strand process where keratin - a naturally-occurring protein found in hair and nails - is applied with an extremely hot straightener.
But at a cost of between $550 and $800 a session, it isn't cheap. And after the application you can't tie your hair up or get it even slightly wet for 72 hours.
But it lasts for three to four months and wears out gently, avoiding the unattractive appearance of curly roots and dead-straight ends.
Keratin hair-straightening products were introduced to New Zealand last year by hairdresser Jeanette Cork, who owns Capelli Studio in Cambridge.
Lawry learned the technique from its American inventor while working at a Florida salon.