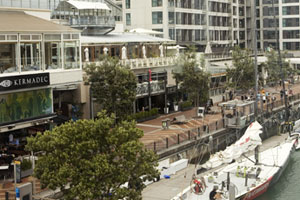 Sparkling by day, twinkling by night, the Viaduct Harbour is a wonderful place to spend some time soaking up the nautical atmosphere. Add to this the excitement of a prestigious international sailing event and the Viaduct truly comes into its own.
With Auckland's March Sailing Festival under way and the Louis Vuitton Trophy just kicked off, it's a great excuse to spend some time in and around the viaduct basin and there's no shortage of options for great eats.
Meander around the marina area, wander over to Princes Wharf and explore further afield to Beaumont and Halsey Streets and Westhaven to take in the different precincts. Here's some of our favourites:
First up, coffee:
Mecca's location in the viaduct basin is perfect. Enjoy sipping a good quality coffee with the same view super-yacht owners get to enjoy. Open from 7am, it's a perfect place to start the day. You may even feel smug and virtuous watching last night's stragglers stumble past!
Brunch:
If you are one of last night's revellers and need brunch to beat the hangover head to Head Quarters (HQ) in Beaumont St. Whether it's French toast, eggs benny or lambs liver that your body craves, at HQ you'll be greeted by an excellent team of staff who know your head hurts and how to fix it. Their hashbrowns are almost worth having a hangover for!
If you're hankering after something a bit more exotic then try Grand Harbour for yum cha. While yum cha is traditionally a weekend event, at Grand Harbour they turn it on every day of the week. Don't be afraid to wait if tables are full, they turn over quickly and before long you'll be one of the lucky punters selecting delicious morsels from the trolleys as they're wheeled past.
Lunch, dinner and anything in between:
Many of the eateries in the Viaduct serve their full lunch and dinner menus throughout the day, and also offer bar snacks if a full meal is not your fancy. Soul Bar and Bistro is a great example. Whether you're seated inside or out, in the bar or restaurant, you will feel right in the heart of the Viaduct here. Soul features the same menu for lunch and dinner and, with an emphasis on seafood, the food and service here is exceptional. From 4pm they offer an innovative bar menu featuring cauliflower fritters, goujons of beer-battered snapper and a posh version of macaroni cheese.
If you can tear yourself away from Soul you won't have to go far to find another of the Viaduct's icons - Kermadec. They've got all bases covered with their fine dining restaurant, brasserie and bar for more casual dining, tasting room and there's even Trench, their late night club. To celebrate the LV Trophy, on weekdays from March 9-26, Chef Peter Thornley is offering a four-course lunch menu ($95pp) in the fine dining restaurant. The menu offers some wonderful options to choose from including a crayfish sandwich, fresh shucked oysters and a crispy skin duck dish. With Peter at the helm, you can be assured the food will be sensational. Kermadec's tasting room menu is another good example of bar snacks that offer more than the usual. Think seared tuna and shiitake mushroom with chilli and ginger relish or house-smoked salmon fritters with lemon and caper sauce.
Further along on Princes Wharf is another line-up of bars and restaurants and it's here you'll find one of the most established in the area - Euro. Chef Simon Gault (most recently famous for Masterchef but previously famed for mad dashes to the South Island to secure bluff oysters for the restaurant) has built the reputation of Euro on quality ingredients, honest but stylish food, cooked and served by a professional team. His rotisserie chicken is legendary. For their pizza they use only Casearia San Paolo buffalo mozzarella and Sicilian tomatoes.
To wind up or down for the night, duck next door to Greenroom where they manage to cater for those wanting a quiet drink as well as those wanting to party till the wee small hours.
Of course these are only a few of the eating and drinking options available in the Viaduct - the place is jammed full of them so set aside a day or three and make like the tourists do: relax, eat and explore!
Details
Mecca, Viaduct Basin
85-87 Customs St West, Viaduct Basin, ph (09) 358 1093
Head Quarters
132 Beaumont St, ph (09) 309 7408
Grand Harbour
Cnr Pakeham St & Custom St West, ph (09) 3576889
Soul Bar & Restaurant
Viaduct Basin, ph (09) 356 7249
Kermadec
Viaduct Basin, ph (09) 304 0454
Euro Bar & Restaurant
Shed 22, Princes Wharf, ph (09) 309 9866
Greenroom
Shed 22, Princes Wharf, ph (09) 362 0776