Rating: 3½/5
Address: 118 Ponsonby Road
Phone: 378 7979
Website: ellacafe.co.nz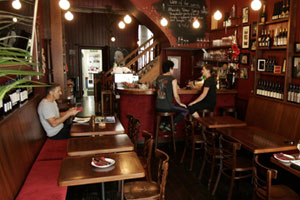 Heaven forbid that I would generalise about the English - some of my best friends are Poms - but I have to say the Professor has some mates from the Old Country who are on occasion given to whingeing.
Four of them visited in February and we had a pair in tow when we went to check out the newest eatery on the Ponsonby Rd strip. This was my good fortune: if I slipped in my critical duty, I could be confident that my companions would pick up the slack.
Ella occupies the former home of Stella, which was evidently a very cool place to be seen. This will explain the fact that I never went there. And there are shades of Stella in Ella, and not just in the echoing homage of the name: owner Erwin Zimmet is a Stella alumnus, who grabbed the lease on the building when it came up.
The walls are lined with many dozens of bottles of wine, arrayed at attention. The effect is more gentleman's club than hip wine bar, if you ask me, but together with an eclectic and original wine list, it feels like a good place for a glass or two.
What a shame then that our waiter seemed completely bamboozled when asked about the right wine to accompany Pommy No 1's food choice. He looked around in panic and, having established that no one was present who knew any more than he did, fetched us a very thick wine guide from a shelf.
He was terribly nice, you understand, as were all the staff - with the possible exception of the unsmiling guy with clomping boots who kept looking at himself in the mirror and barked "Yes!" if I caught his eye. It's just that with all that wine about, I rather expected someone to know something about it.
The menu, like the wine list, is an appetising blend of the familiar and the novel. Pommy No 1 chose squid stuffed with capsicum and remarked ruefully that she "didn't expect it to be stuffed like that".
I toyed with the idea of asking her whether they stuffed the tubes of squid differently in the UK - from the other end, perhaps? - but it looked fabulous to me and anyway I had parmesan-crumbed sardines to attend to.
The parmesan crumbs beat the sardines and the result was a touch drier than it should have been, but I must have been in the mood for crumbs because I chose the excellent veal schnitzel which came with a delicate potato salad. Perhaps it was a nod to Zimmet's German roots, but it was certainly a cracker.
Elsewhere on the table there were good reports: the Professor was much taken with a piece of crispy-skinned snapper and Pommy No2 was delighted with his slab of pork belly which he said was "quite good, really" (an ecstatic assessment, trust me). Pommy No1 was looking a bit wan about the pappardelle with lemon but I tried some; it was great.
The desserts - we had one of each - almost deserve a review of their own but I will confine myself to saying that the Professor praised the pav. This is the first time she has had anything nice to say about any pav other than her own, so it is a matter of note. Particularly when you remember that her parents were Poms.
Ambience: Cosy
Vegetarians: Several starters, one main
Watch out for: The wine guide
Bottom line: Solid performance
THE BILL
$271 for four
Entrees $12.50-$13
Mains $22.50-$27.50
Sides $5.50 each
Desserts $12.50 each
Wine (five glasses) $48
Water $6