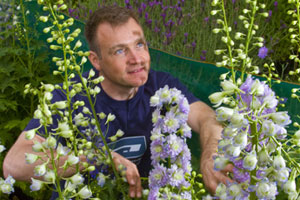 The weather has been kind in the run-up to this year's Ellerslie Flower Show. And, having promised to increase signage and traffic flow and reduce the dreaded queues, the organisers are confident they can build on the success of last year's show.
With international designer Koji Ninomiya, who is building a traditional Japanese garden, the organisers are banking on big-name Brit designer and TV presenter Chris Beardshaw to have the flair and credentials to wow the crowds alongside homegrown talent.
With a stack of Royal Horticultural Society show medals in his back pocket, Beardshaw is used to the pressure and planning of large show gardens, but he has been bowled over by the friendliness and can-do attitude of our growers and landscapers who have been helping his vision bloom under the willows and poplars of Christchurch's Hagley Park.
Beardshaw arrived in November and was offered a site alongside the other show gardens. But he wanted to spread his wings and has borrowed a strip of land which takes in the natural features of the site running down to Victoria Lake to create his quintessential English country garden with shady loggia, 3m-deep herbaceous borders and even a stab at a wildflower meadow brimming with poppies.
At 64m long and 12m wide, this is the largest garden attempted at an Ellerslie show and will easily swallow up some 4500 annuals and 3000 perennials.
"The quality of the plants has been phenomenal," says Beardshaw. "It's easily as good as, if not better, than anything you can get internationally."
The layout begins formally with clipped hedges and geometric borders. Though perennials in some quarters are seen as old-fashioned and high-maintenance, Beardshaw disagrees: "It's a case of 'right plant in the right place'. A shrub, bulb or a perennial - it doesn't matter what it is, but whether a plant likes your conditions is what matters. What we need is a continual succession of interest so the garden never has a chance to pause for breath and that means variety."
Like a conductor waving his baton, Beardshaw is in his element as he describes his carefully orchestrated planting - how the colours rise from purples and blues to a cauldron of fiery hot tones before the painted loggia causes a gear shift to the quieter, more naturalistic meadow planting which opens out in calm greens toward the water's edge.
After working nights at the show for two weeks Desmond Stock has finally taken a break from his day job to devote all his energies to the garden he is building with his mates Gareth Ford and Cameron McLean.
These landscape architecture graduates from Lincoln are Canterbury boys through and through and if they are not surfing out off the peninsula you will find them snowboarding in the Southern Alps. But today it's all hands (literally) on what promises to be a hi-tech deck with hammer, nails and welding tools putting finishing touches to their cutting-edge roof garden "Solace in the Skyline".
The lads are imagining how Cantabrians will make better use of tight spaces if the council's ambitious plans take off to attract 25,000 new residents back into the city centre. "We want to show that Kiwis can have everything they love about a garden on their roof and in Christchurch that means fantastic views out to the surrounding landscape, too."
"Essentials" for this ambitious trio include a lawn, which here is a moveable carpet only centimetres thick. This turf is laid on to a special geotextile membrane and floated in sections on to a steel base. Entertainment is another must with a spa pool hidden Thunderbirds-style under a retractable bit of lawn as well as a brazier which has to be gas, thanks to Christchurch's smokeless policy.
The clean-air proselytising crops up in another design triumph - Hollywood junipers which billow dramatically out from the top of a set of redundant chimneypots as a reminder of what pollution used to look like.
Every flower show has its garden genres which crop up every year, be it cutting edge, cottage garden to keep the grans happy or the good-old trip down memory lane. But Bush Telly, the charity which surprised itself last year by winning the Supreme Award, seems to transcend stereotypes.
Take a bunch of ecological boffins, hand them TV equipment and Weta workshop wizardry and tell them to preach the good news and that's pretty much what Bush Telly is about - aiming to promote and educate us all about wildlife and conservation issues through free programmes and films.
It all sounds too nice to be true but talking to producer/designer Mike Peters you realise that there are no catches to their well-meaning passion to help us appreciate what a special place we live in.
"We survived on handouts and goodwill since we started in 2001 but then we hit gold last year when we won at Ellerslie and suddenly the interest and help we have been having has exploded," says Peters.
This year's offering magically captures a slice from the unusual limestone country on Mt Cass in North Canterbury, which is threatened by windfarms and farming.
The Ellerslie interpretation is not just a "garden" - it will be a film-set, too. Each day for a few hours the public will watch as experts and conservationists are wheeled in dressed in gumboots and swatting imaginary sandflies so they can walk past the (polystyrene) limestone bluffs, boil up a billy can by the artificial stream and no doubt slip on the authentic cow pats which Peters has lovingly incorporated into this magical slice of what is a fast disappearing landscape.