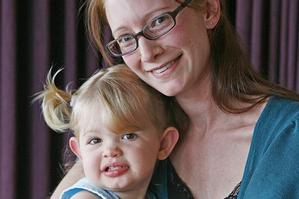 Auckland mum Hannah Tegg splits her time between raising 22-month-old daughter Elliyah and working 15 hours a week as an IT systems manager. She says it's a happy and healthy balance.
The 29-year-old's husband Aaron owns an IT company, earning enough to largely support the family.
Tegg also enjoys the stimulation of working part-time and getting "adult company", while her toddler plays with another girl at a neighbour's house in an in-home childcare arrangement for 12 hours a week.
Tegg finishes the rest of her work hours while Elliyah sleeps.
She says Elliyah does not watch any television and rarely eats junk food.
She feels for mums who work full-time "as someone else would be raising your child", but she knows some people have to do it in order to support the family.