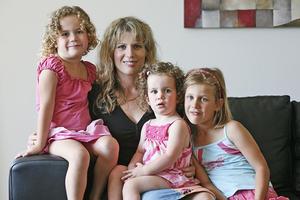 Part-time working mums raise healthier kids than their counterparts who stay at home full-time or those who work all week.
This is according to a just-released study from Australian researchers entitled Do Working Mothers Raise Couch Potato Kids?, which found kids of part-time mums watch less television, eat less junk food and are less likely to be overweight.
The study dispels the myth that "when mums work, children suffer", said Dr Sarah Farquhar, an early childcare researcher based in Wellington and former head of the NZ Early Childhood Council.
She added that the research should serve as a "warning message" to some parents.
A similar Kiwi study of 7000 families is investigating the same issue.
But Minister of Labour Kate Wilkinson defended full-time mothers. She suggested that it was "very brave" for an academic to suggest stay-at-home mothers were raising unhealthy children.
"From my point of view, mothers should be encouraged to make decisions they believe are best for their family."
The Australian study found that overall, part-time mums let their children have about 60 minutes less TV time weekly than stay-at-home mums or those who work full-time, the Sunday Telegraph reported. Their kids also ate fewer snack foods and had more time being active.
"Although employment reduces the time parents spend at home, mothers go to considerable lengths to insulate time with their children," the researchers concluded. "They reschedule activities, sleep less and allocate less time to personal care and leisure to ensure time with children is protected."
The study also found mothers who work full-time tend to have unhealthier kids, but researchers did not know why this was. More than 4500 preschoolers were involved in the study in which their height and weight was measured at ages 4 to 5 and again at 6 to 7.
Dr Farquhar says the study shows that when there is some structure to the day, be it through part-time work or attending playgroups, family life becomes "more organised and more active".
However, when parents work longer hours, "It becomes harder to avoid the temptation of leaving the television on and not to rely on the convenience of junk food and takeaways."
The findings support calls from Kiwi parents who want their kindergarten days broken into sessions, she says, and not go to the school day or full day model.
Susan Morton, director of the Auckland University study entitled Growing Up in New Zealand, said Kiwi researchers wanted to answer the same questions, using home-grown, in-depth research.
The Kiwi study has also interviewed dads, to see what role their work plays in their children's health. They might be doing some of the childcare, enabling mums to work part-time, which would make for a healthy balance.
'Life's a juggling act'
Michelle Cavander works three days a week in a marketing role and enjoys spending the rest of her time with her girls.
The 34-year-old and her husband David, a general manager, are raising Georgia, 6, Summer, 4, and Brooke, 2, in the Auckland suburb of Albany.
Georgia attends primary school, while Summer goes to daily morning kindergarten and Brooke is at a morning creche twice a week. In the afternoons, the younger girls are looked after by grandparents or a friend who plays games with them and takes them to parks.
Cavander says life can be a juggling act but she has a flexible work arrangement which makes it possible for her to continue her career. "I have a good and understanding employer and I try to be really productive when I'm at work."
Cavander makes the most of her days off by taking the kids to activities like dance lessons, gym and playgroups. But she is an "everything-in-moderation type of mum" so it's okay for them to watch a little bit of TV or to eat chips occasionally.