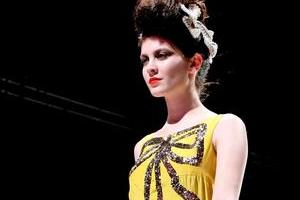 Fashion Week organisers Pieter and Myken Stewart launch their latest venture next week - a consumer festival they hope will follow similar public celebrations of fashion overseas.
The inaugural Auckland Fashion Festival will comprise a runway show on March 16 and a designer garage sale the following weekend.
The Stewarts say they are deliberately starting out small, aiming to gradually bring sponsors and the fashion community up to speed with the concept and build it over three years.
This is in contrast with a press release they issued in October that said the festival would involve "a number of fabulous events from red carpet gala fashion shows to exhibitions and seminars".
Fashion news website frontrowdiary.com also reported the festival would include "group and solo fashion shows, designer after parties, fashion films, seminars (including top international fashion heads), wedding shows, garage sales, student shows, beauty events and more".
Myken Stewart said the event had been in the pipeline for some years, based on the model of Melbourne's fashion festival held at the same time of year, but 2010 was never intended to be more than the one show of designers' autumn/winter collections plus the garage sale.
"We have always planned that it will be bigger than this but it needs a whole year of people understanding exactly what it is to make that happen."
They would have conducted a soft launch closer to Fashion Week in September, she claimed, but for a bizarre series of events late last year.
In November, social pages regular Pearl Going invited a select group of designers and media to a mysterious Waiheke Island launch of some new fashion awards. It was apparently linked to a fashion event Going had planned for this month.
Stewart said the Fashion Week organisers had to act because the situation was confusing the market. "We were always doing Fashion Festival long before she turned up.
"We really needed to pull finger and make sure that we got out there and did our show."
Just before Christmas, Air New Zealand dropped its naming rights sponsorship of Fashion Week after six years, but Stewart said Fashion Festival was completely separate and was not affected.
They were working in conjunction with Melbourne and in future years would share international speakers and promote each other's designers, she said.
They had been keen to align with Auckland Cup Week at Ellerslie but the timing clashed with Melbourne. "The reality is it's much more important for us to work in with a similar event so we can share resources."
The show had had limited publicity but that was a deliberate strategy, because there were only 700 tickets available for the March 16 designer show, she said.
Around 300 tickets had already been sold to the show, at which labels including Adrian Hailwood, Annah Stretton, Barkers, Kate Sylvester, Moochi, Trelise Cooper and Zambesi will show examples of their latest collections.
It is free for designers to take part. Stewart said the festival was a retail event that provided opportunities for the entire fashion and beauty sector.