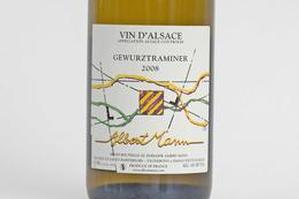 Gewurztraminer can be a beguilingly distinctive drop for those enamoured by aromatics. From the benchmark examples of France's Alsace region to our increasingly impressive homegrown gewurz, this relative of sauvignon blanc packs a powerfully perfumed punch.
With many gewurztraminers, one sniff and your senses are arrested by scents of ginger, clove and exotic spices: the "wurz" in its name is German for spice. Also reminiscent of lychee and roses, it's now been discovered that it shares a key aromatic compound with this Asian fruit and certain types of rose. And a mouthful reveals the soft and voluptuous texture of its wines, which range from dry to lusciously sweet.
Despite its Germanic moniker, gewurztraminer probably originated in Italy. As early as 1000AD it was mentioned as growing in the village of Tramin, from which its earliest incarnation, traminer, got its name.
From the Middle Ages until the 19th century, this was widely planted across central and eastern Europe. Then in the 1800s its spicier side emerged in the form of a particularly perfumed mutation, which became known as gewurztraminer in Alsace, where the variety made its reputation.
In the last century it spread in small quantities to the cooler corners of the New World suited to its cultivation, arriving in New Zealand in 1953. However, it wasn't until the 70s, with the impressive examples from Bill and Denis Irwin at Gisborne's Matawhero that the country really saw how great gewurz could be here.
"At a time when the country was awash with muller thurgau and fortified wines, those early Matawhero gewurztraminers were outstanding and inspired me to make gewurztraminer, and wine more generally," said Stonecroft's Alan Limmer speaking on the variety at the recent Nelson Aromatics Symposium.
Limmer made his first gewurz in 1983, which provided a new benchmark for the variety. Today, our gewurztraminers have never been so good, with Stonecroft's examples joined by a stellar selection from Dry River and Te Whare Ra, more recent stars, Johanneshof, Lawson's Dry Hills and, most recently, Nick Nobilo's gewurztraminer-only, Vinoptima venture.
Nobilo is making some stunning examples from his vineyard and tailor-made winery at Ormond in Gisborne. Started in 2000 after the sale of his family firm, Vinoptima found Nobilo returning to pursue a passion that had been ignited by the variety after his first experimental plantings of it in the early 70s.
While riesling is the most highly regarded aromatic and pinot gris has become incredibly popular in recent years, Nobilo thinks gewurz will have its day. "I predict gewurztraminer will take over in aromatics in the next 15 years, due to the potential in China," he says, its spicy profile making it a good match with many Asian dishes.
Despite this it still struggles to achieve mass appeal, something that in part is due to its heady and sometimes heavy profile, which can be overwhelming for drinkers used to more neutral wines, and is somewhat at odds with the current trend towards lighter and fresher styles.
But perhaps its greatest challenge remains its name. Pronounced ger-VURTZ-tram-in-er, all those syllables put off many potential drinkers, who are missing out on the spicy pleasures the variety can provide.
Posh spice
Perfumed and pretty
Greystone Waipara Gewurztraminer 2009 $27
With its intense aromas of tuberose and carnation, if this was a perfume I'd be wearing it! Although concentrated, it's not cloying, with a lovely balance to its gently sweet and silky textured palate that builds to an impressive minerally, spicy and floral finish.
(From First Glass, Glengarry Westmere, Point Wines.)
Classic example
Albert Mann Gewurztraminer, Alsace 2008 $39
Maurice Barthelme of highly regarded biodynamic domaine Albert Mann considers gewurztraminer to be "a wine for discussion". There's certainly plenty to talk about in its gentle and fresh example in which Turkish delight meets Moroccan spice with a twist of grapefruit zest.
(From Maison Vauron, Wine Circle, Point Wines, Wine Vault.)
Old vine intensity
Stonecroft Hawkes Bay Gewurztraminer 2008 $45
Primarily made from vines planted in 1983, this benchmark NZ example is a richly textured wine threaded with delicate strands of rose, musk, aniseed and clove spice. If you're not totally enamoured by this fabulous example, then gewurztraminer just may not be for you.
(From www.stonecroft.co.nz)