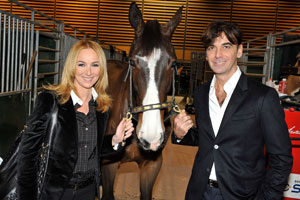 Beautiful horses and beautiful people are both commonplace at Auckland Cup Week, but this year's event is set to get an extra dose of international high fashion glamour, courtesy of Gucci.
The Italian fashion house - which showcased its latest womenswear collection at Milan Fashion Week over the weekend with New Zealand model Ella Drake in the show - is sponsoring the Gucci 3YO Race on Derby Day this Saturday, and will also host an exclusive private suite on course for VIP guests throughout the week. And though this is the first time it has sponsored an equestrian event in Australasia, Gucci's ties with the equestrian world are long-established.
Since its launch in 1921, Gucci's central reference point has been drawn from the world of horse-riding, with equestrian symbols subtly incorporated into designs that have become synonymous with the brand. Originally incorporated into leather saddle-stitched handbags, trunks and other accessories by founder Guccio Gucci, the stirrup and horsebit motifs are now considered by the house to be one of four key "Gucci icons" - the others being the floral print, GG monogram and bamboo handle.
The famous Bamboo Bag was released in the 1940s, inspired by the side of a saddle, and went on to be favoured by well-known glamorous ladies like Grace Kelly and Elizabeth Taylor.
In the 1950s, the brand looked to the horse world again to create their now-signature green-red-green striped webbing, drawn directly from the saddle girth. But it is the metal horsebit and stirrup motifs that are the most well-known Gucci looks, used as small or oversized hardware on handbags, embossed into velvet, printed on silk scarves or used for effect on jewellery. Most recently a bold mechanical bit belt with braided leather featured in the spring/summer 2010 womenswear collection. The motif has also decorated classic Gucci loafers and moccasins, another signature of the house favoured by the likes of Francis Ford Coppola, John Wayne and Fred Astaire.
Whether it is inspired by horse racing, show jumping or horse enthusiasts, each piece acts as a fashionable interpretation of the noble glamour of the equestrian world - a reflection of the brand itself.
Gucci creative director Frida Giannini, who has ridden horses since she was a child, continues to be inspired by the sporting glamour of the equestrian world. The brand acknowledged its rich history of association by sponsoring the Gucci Masters at the prestigious Paris International Show Jumping Event at the Paris Horse Show in December last year - its first equestrian sponsorship in more than 20 years.
And now, to continue to celebrate its roots, Gucci is bringing various archival equine-related pieces to be displayed in the exclusive Gucci suite during Auckland Cup Week. The collection includes a stitched under-saddle with Gucci's distinctive red and green lining and a braided leather crop, both from 1988, a brown calf and "Guccissima" leather saddle from 2006 and men's equestrian boots from 1985.
But if you're not lucky enough to be invited, the current in-store accessories feature plenty of horse-inspired detailing - perfect for raceday.