Rating: 3/5
Where: 21 Queen St, Warkworth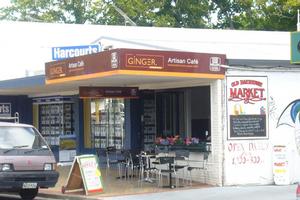 We came here because we were on a day trip north and stopped to do some chores in the village.
Parking was surprisingly difficult given that it was the middle of the week in a small town. Once we found one though, it was definitely impressive, with gorgeous views over the river and native bush that almost seemed wasted on a carpark.
We walked in and immediately thought the menu looked tasty and the tables were nearly full - two positive signs of quality, we thought.
The most unusual thing on the menu didn't exist. Ginger sticks to the brunch basics of cereal, eggs, sausages and bacon and the like, prepared the way you'd expect them. The cabinet food is a little more adventurous.
We ordered a mushroom and brie tart from the cabinet ($9.50), a vegetarian eggs benedict ($12.50), a berry muffin and a slice. The eggs and the tart were good without being spectacular, although the louise slice was excellent, with a layer of chunky berry conserve.
The service was fine although a little bit rushed. The coffee was also fine but just slightly too weak for our tastes.
We recommend if you come here you settle your brunch with a long stroll along the river and a browse around the shops. This would be a good pitstop for cabinet food and coffee on a long trip.
Overall we thought the food was not outstanding but it was good value.