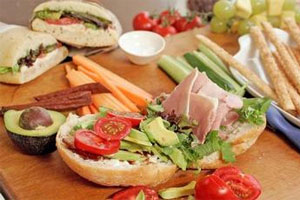 Kids complaining about the state of their school lunch box? Auckland foodie Janene Draper offers some hints, tips and recipes.
I grew up trying to swap my lunches for something far more delicious than mine, but nobody wanted them.
My mother, who openly admits she wasn't the best of cooks, plied the butter so thick the sandwich would stick to the roof of my mouth. My favourite sandwiches were Vegemite with a few crisps scrunched inside. And there was no tuck shop, though the local fish and chip shop would deliver to school in a cart.
As I grew up and our family increased in size, I took over the home baking. My job over the weekend was to fill the tins with enough baking to last six energetic children the whole week and it was where my love of food was born.
I'd spend my week pouring over the Edmonds Cookbook, deciding what recipes I would make that weekend and make sure mum bought all the right ingredients.
In one morning of baking I would whip up muffins, cakes and two or three slices. Firm favourites among the siblings were ginger crunch, marshmallow slice, afghans and a chewy chocolate slice. It was a balancing act of producing volume without losing quality.
More than 30 years later and now a mother of three high-school boys, the lunch box dilemma hasn't changed. The art of balancing something healthy and nutritious with something that will be eaten is not always straightforward.
The key to success is planning. Think about your children's nutritional requirements - how active are they? Two of my boys, for example, are keen cyclists and cycle more than 200km a week. They, therefore, need more calories than my other son. The bananas that used to come home squashed hardly make it to school before they are devoured.
Instead of the traditional sliced bread, stock up and freeze a variety of bread rolls, pita breads, wraps. In fact putting the filling into a frozen roll/bread is great when you have meat or other foods that should be refrigerated, the frozen bread keeps the meat cool and the bread defrosts in time for lunch.
The best idea that got the boys excited about their lunch was setting up the bench as a mini "Subway station" ... slice lettuce and tomato, grate a carrot, tomatoes, beetroot, cheese, have mayo, caramelised onion, a few meat choices. Getting them involved, by having their own input into the fillings, has been a huge success.
With fruit and vegetables - look at what's in season, this is always the cheapest, too. Try wrapping or popping pieces into some small containers. Carrot sticks, cherry tomatoes or a wedge of cucumber. Even snow peas are great. Try kebabs by alternating grapes and pineapple on skewers.
It's not uncommon to keep finding fruit uneaten in the lunch box, or, worse, scooped out of the lunchbox and squashed in the bottom of the school bag. At the school of one of my boys, the children had to show their empty lunch box to the teacher before they could go and play. My son soon realised an empty lunch box was a matter of merely emptying it out before he chose what to eat, and the rest went straight into the school bag.
To beat that problem, I decided to ditch the fruit from the lunch box for a while and made sure they got enough by giving them fruit platters once they got home. Lunches are also a good way to use leftovers. When having roast chicken for dinner, for example, pull the last of the chicken off the bone and refrigerate overnight. Mix it with a little mayo and use as a filling option the next day.
Today we are also spoilt for choice with the variety of pre-prepared food. Mini bagels are delicious stuffed with cream cheese, smoked salmon and a little soft lettuce.
Pre-frozen croissants or pain au chocolates, are always popular and are simply a matter of taking them out of the freezer the night before and placing them on a baking sheet. By morning they will have defrosted and doubled in size.
When you get up in the morning, place them in a hot oven for 16 minutes ... voila, fresh baked pastries.
Try to keep the treat items to a minimum. I have a snack draw, from which my boys are allowed to choose one thing each to add to their lunch. It contains things like: beef jerky, nuts and cheese.
One particular favourite is Crupples - small pieces of apple soaked in blackcurrant juice, then freeze-dried. Finally, one of the best things I have learned about is "refrigerator muffins".
Simply make a base mix and add the final flavouring each day as you pop them in the oven, the result is a different type of fresh muffin for the lunch box each morning.
The recipe here will make up to four dozen muffins (depending on the size you make) and the base mix will last up to five days in the fridge.
Note: if you can't get hold of buttermilk, make your own substitute by adding 1 tablespoon of lemon juice per cup of milk and let it stand for 5 minutes before use.
Sweet muffin mix
4 cups flour
1 cup brown sugar
½ cup sugar
4 tsp baking powder
1 tsp baking soda
1 tsp salt
2 cups buttermilk (I use Karakas)
¾ cup oil
1 ½ tsp pure vanilla essence (I use Heilala)
3 eggs, lightly beaten
Put all the dry ingredients in a large mixing bowl and blend well.
In another bowl, combine your wet ingredients; buttermilk, oil, vanilla and eggs; mix well. Add this liquid to the dry ingredients; gently stir until just combined. Cover tightly with cling film, and refrigerate until needed - can store in fridge for up to five days.
When preparing to bake muffins, preheat oven to 180C. Grease bottoms of muffin cups or, better still, use paper baking cups. Place 1 cups of the muffin mix in a bowl. Fold in flavour ingredients.
Fill muffin cups two-thirds full and bake 20-25 minutes.
Flavour ideas
Using 2 cups of muffin mix for a batch ...
* Sweet Spiced apple and nut: Fold in one peeled, thinly sliced apple, cup chopped nuts, tsp cinnamon, tsp nutmeg and tsp allspice.
* Blueberry: Fold in one cup of fresh or frozen blueberries.
* Fruit muffins also taste great with a cinnamon topping: Mix together 2 tbsp sugar, tsp cinnamon and tsp nutmeg and sprinkle over muffins before they go into the oven.
* Pineapple and coconut: Fold in cup drained, crushed pineapple and cup coconut.
* Double chocolate chip: Fold in 1 tbsp Dutch cocoa and cup chocolate chips.
* Cream cheese and peach: Drain 1 cup of canned peach slices and fold through the muffin mix. Place mix into muffin cups and then press a teaspoon of cream cheese into the mix before going into the oven.
Savoury
Simply leave out the sugar and vanilla and add some fresh ground pepper.
* Bacon and cheese: Saute in a non-stick pan: 1 tbsp olive oil, 1 finely diced onion, 3 rashers finely chopped bacon and 1 cup grated cheese.
* Feta and capsicum: Try cup feta, 1 finely sliced spring onion and sliced capsicum.
Janene Draper is the owner of Farro Fresh food market, in Mt Wellington, Auckland.