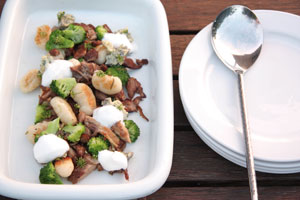 My first encounter of the hell's kitchen kind came via a plate of soft, velvety and creamy gnocchi, hurled in my direction by a very animated chef.
The kitchen apprentice had not been following precise directions for the smoked chicken with pumpkin gnocchi and ginger butter sauce. As a result the plated dish smashed into the wall beside me, splattering gnocchi all over the seven finished dishes I was about to send out to the dining room.
That apprentice was not the first, and wouldn't be the last, to struggle with gnocchi.
These small potato-based dumplings tend to appear either as small chewy bullets or disintegrating splodges of pasty mess bundled up in a gooey, cheesy sauce.
Once mastered, however, gnocchi are transformed into little pillows of heaven which are best coated with a thin sauce, or a nut-brown herb butter and freshly grated pecorino cheese.
The secret is to use starchy potatoes. Wash the skin, prick them with a fork and bake in the oven.
Once cooked, cool, peel, then press the potato through a sieve or food mill.
Try to stay away from steaming or boiling the potatoes, as it affects the amount of moisture in the spud. The higher the water content, the more flour is needed, and the heavier the gnocchi will become.
Work with the potatoes when they are still warm.
Don't over-knead the dough, and use a wooden butter board to give the gnocchi the classic torpedo shape with indentations that catch a whisper of divine sauce.
Although these potato dumplings have had the bulk of attention, there have been other wonderful types of gnocchi shared as far back as Roman times.
Gnocchi romaine is a stress-free dumpling made by simmering milk infused with a bay leaf, then whisking in semolina, eggs and parmesan cheese.
The mixture is poured into a buttered dish, levelled and left to set.
The slab is then turned out and cut with a 5cm cookie cutter.
The gnocchi discs are then placed into greased gratin dishes coated with fresh tomato sauce, sprinkled with parmesan and gratinated.
The French favour gnocchi Parisienne, a savoury choux paste made from whisking flour into boiling water, beating in two eggs and finishing with gruyere cheese and herbs.
This dough is then placed into a resealable plastic bag to rest. The corner can be cut to create a homemade piping bag. Lengths of the dough are then piped and cut into 2cm pieces, before being dropped into a saucepan of simmering water.
When the dumplings float to the surface, they are scooped into a bowl of iced water, patted dry and frozen for later use with prawns, pinenuts, sage butter and fried capers.
My favourite gnocchi, though, are made with ricotta cheese, fresh breadcrumbs and parmesan.
They are especially delicious tucked into bed with seared chicken livers and a fresh tomato, olive oil and herb salsa. It's all just a matter of mastering the technique.
- Potato gnocchi with pork shoulder, broccoli and blue cheese
- Dreamy ricotta gnocchi