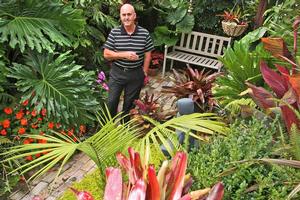 Nothing gives a garden such a turbo boost as subtropical planting, which is why Graeme Ross - after moving from a near-plantless apartment to plant a blank Beach Haven section on the North Shore - has been able to open his doors to the public for four out of the six years he has been playing on this steeply sloping site.
Graeme likes to holiday and has brought his favourite ideas of Thailand back home to create a lush and jungly oasis peppered with art works and water features.
His resort-style planting has been fast-tracked with turbo-charged palms, red-leaved bananas and many bromeliads which are loving this summer's heat - but not the lack of water and Graeme is out watering madly in readiness for next weekend's Heroic Gardens Festival. With 32 private gardens on offer, the festival will be the biggest in its 14-year history.
Although he has an in-ground irrigation system Graeme prefers to water by hand, saying you can only really get in under the larger foliage to water the lower layers yourself and it gives you opportunity to deadhead and trim the odd leaf here and there as you go.
Looking at the lush hillside it's hard to believe it was all bare six years ago. Graeme began by cutting out three terraces on the slope, linked by wooden and brick steps, creating "rooms" to develop within the design. He prefers to keep to an overall feeling of a lush tropical escape.
He aims not to let his artwork take too much attention away from the plants but a few carved faces still peer from the undergrowth to add to the getaway feel.
Foliage is always the first consideration and a good backbone of natives reinforces the well-furnished boundaries but colour floods in with banks of bright bromeliads, pink foliage of iresine and flowering cannas as well as tropical impatiens and the searing hot single flowers of the Flamboyant series of begonias.
Like the plants he grows, Graeme isn't one to sit about. Even though he's delighted at how easy it is to maintain this style of planting - keeping it going with water and hefty dollops of sheep pellets each year - there is always a pergola to be built or retaining wall to put up. It helps that he's handy with a drill and hammer.
The plant bug was caught early on from his mother who would regularly march him off to some garden centre or other after school back in Palmerston North, which started a lifetime of being involved with gardening at work and home.
"Some people have palms and bromeliads then mix them with roses, dahlias and hydrangeas, but that's not for me," says Graeme. "I wanted a Pacifica feel so all my plants are chosen to complement the theme even down to the colours which are uncompromisingly bright - pinks, reds, plenty of orange and not a wishy-washy white in sight."
Being the host of a garden is rewarding, but exhausting, over festival weekend.
One plant everyone will be admiring over next weekend will be the butterscotch-coloured trumpets of a large brugmansia.
"They flower in flushes with gaps between so it may just about last until next week."
He prunes all the brugmansias hard in late winter and loves their spicy evening scent. Even these showoffs, however, will be eclipsed by a spectacular bromeliad on the deck. Alcantarea imperialis Rubra has excelled this year by throwing out a rare candelabrum of flower, 2.5m high. There are 300 to 400 bromeliads here Graeme reckons and he loves how easy and drought-tolerant they prove to be.
The newer Kiwi series of vrieseas in soft pink tones, bred by Andrew Malloy, are particularly effective and complement the even easier-to-grow neoregelias.
A sprinkle of slow-release fertiliser once a year and a brutal dash of splitting and dividing in spring is the only fuss they require.
"I pull the pups off the spent mother plant and replant them all in spring but the tired old parents aren't tossed away immediately. I sit them out on top of the soil in an out-of-sight area where, under a bit of stress, they throw out another flush of side shoots which can be harvested before they are finally binned."
There's obviously no room for sentimentality about throwing plants away when others can become monsters overnight. After all, ripping out an old timer gives you an excuse to go out shopping all over again.
The Heroic Gardens Festival is on March 6 and 7; with all proceeds going to Hospice New Zealand. www.heroicgardens.org.nz
Tips for ponds
Circulating water through water features and fountains helps to maintain oxygen levels in the water. Graeme circulates his water through a simple bacterial filter and covers some of the pond surface with plants to keep the water cool.
All these measures help to deter the dreaded infestation of algae in the summer months but Graeme reckons the reason his pond is clear and bright is because he keeps an eye on the pH (the measure of acidity or alkalinity) of the water.
Any concrete pond lining and regular top-ups with tap water can affect the pH.
Graeme uses a simple test kit a few times a year and aims to maintain a neutral to slightly acid pH of 6.5, which algae dislike. He adds a special pond acidifying additive, Low pH, and re-tests to get the level right. This does not harm the fish or tropical blue waterlily, which should be at its best when the doors open next week.