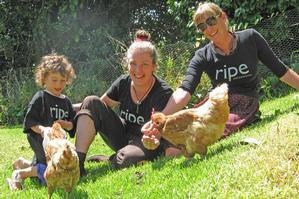 Award-winning deli Ripe, on Richmond Rd, never fails to deliver with deliciously fresh salads and mouthwatering deli treats.
And to make things even better - and tastier - they've made a commitment to using free-range products where and when they can, along with sourcing local produce and using seasonal ingredients. This, says owner Ange Redfern, goes through to the eggs they use in their cakes.
Look out for changes in the menu throughout the year as they incorporate the best of what each season has to offer. And if you live locally and have an abundance of veges or herbs in your garden, take them in and they'll exchange it for a coffee. We like.
172 Richmond Road, Grey Lynn, ph (09) 360 6159 or go to ripedeli.co.nz.
A little bit cheesy
If like us you love, love, love cheese, then we suggest you head directly to the Langham Hotel next week for the annual Cuisine NZ Champion of Cheese Awards.
More than 400 cheeses have been sniffed and nibbled on by a team of 24 expert judges including Master Judge, Australia's Russell Smith. The winning cheeses will be announced and unveiled at a gala dinner for the cheese-making industry at The Langham Hotel, next Tuesday at 7pm.
The public will be able to sample and purchase their favourites when all the cheese in the competition is displayed for tasting at CheeseFest, at The Langham Hotel from 5-8pm on Wednesday March 3. Tickets for this event are available from eventfinder.co.nz.
Tea please
There's nothing better, every now and then, than stepping outside our fast-paced lives and enjoying the pleasures of yesteryear - when things were slower and, dare we say it, more refined.
One place you can experience this is the elegant historic Alberton House where, over the next few weeks, they'll be holding Devonshire tea parties for $20 a head and Classic luncheon parties for $30 a head.
You'll sit on the verandah of this Auckland landmark, built in 1863, and be served a dainty range of treats and tea in best fine bone china. The parties will be held at 10.30am, 12.30pm and 2.30pm on Thurs 25 and Sun 28 Feb, Wed 3 and Sun 7 March. To book, ph (09) 846 7367.