Rating: 7/10
Address: 2023 Great North Rd
Phone: 09 820 8638
Cuisine: Chinese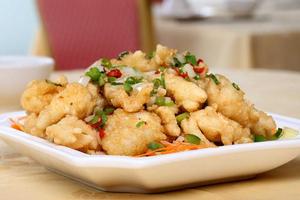 Some of my first "dining out" experiences involved a group of us, in our teens, going to Chinese restaurants where we enjoyed the novelty of a non-European cuisine, the lazy Susan and, more than anything, being able to consume copious amounts of lager without being asked to produce ID! Perhaps I overdid it back then as it's rare these days that I seek to eat out Chinese-style unless it's for yum cha. However, I recently caught wind of a new Chinese restaurant in Avondale where friends, when hosting business associates from China, were in the habit of dining.
From the outside Wing Wah Chinese Restaurant has a gregarious paint job and on the inside the decor is no less subtle - salmon-pink dining chairs, fluorescent lighting, faux foliage and of course the beckoning cat ornament to welcome diners. I liked it immediately.
Starting off with a mountain of pastel-coloured prawn crackers and cans of Sprite (we had failed to find out that it was BYO) seemed like a fitting way to start while we perused the menu.
We decided to go with each of us choosing a dish for the table to share. Things were going well with ginger beef, spicy and salted squid, Peking duck (with those darling little pancakes) and egg fried rice all making the cut. Then the handsome visitor from Adelaide ordered jellyfish served with pork hocks.
Now even though at the start of this year I made a vow to eat more "outside of my comfort zone", this was getting WAY out there. I tried to act cool and hide my terror.
First to arrive at our table was the chilli salted squid - a pile of tender, scored and lightly floured pieces of squid served with lemon wedges. This dish made all those "salt and pepper calamari" options, on almost every bar, cafe and restaurant menu these days, seem like popcorn by comparison. This was succulent, spicy and delicious.
Next up was the duck. Peking duck is advertised at Wing Wah as two courses - first, the crispy skin served with pancakes, cucumber and hoisin followed by the duck meat served on vegetables.
A stack of warm, neatly folded pancakes arrived and within seconds we were all engrossed in building our own morsels of crispy roasted duck, cucumber and spring onions all wrapped neatly in a pancake and dipped in the hoisin sauce. They were soft, sweet, crunchy and five-spicy all at once. The duck was a bit on the fatty side, which can be hard to avoid, but the skin was undoubtedly roasted to a crisp. The duck meat that arrived as part of the second course could have been more tender.
Now to the jellyfish. It arrived, a tangled pile of translucent strips, slightly red-orange in colour sitting alongside strips of pork hock with dipping sauce.
I tentatively tried the jellyfish and ... was surprised how innocuous it was. Slightly hard on the outside, and rubbery in texture with the only real flavours coming through being the chilli and a hint of sesame oil. The cold, cooked pork hock was, worryingly, still frozen on the inside. I can't say I tucked in with my usual vigour to this cold dish, nor that I'll be rushing back to order it again, but I'm pleased to have tried it.
By the time the beef dish and fried rice arrived we were beginning to realise we'd over-ordered. The beef was good enough with plenty of fresh ginger and garlic to spice it up as well as some welcome, just wilted, fresh Chinese greens. The plainest food is sometimes a good measure of a place and here the egg fried rice was a clear case in point. It was spectacular in its simplicity - the rice had been fried enough to give it a good "almost crunchy" outer, the essential (in my opinion) spring onions and peas were the only veges added and the dish was seasoned with just the right amount of pepper. Most importantly, it wasn't oily. We all commented on how impressive it was and I for one, couldn't help spinning Susie so that I could have "one more spoonful" long after I needed to.
Over the course of our meal the dining room had filled up with groups of diners, predominantly Chinese, and numerous locals had called in to pick up takeaway BBQ roast duck and pork. Only four months old and owner-operated, Wing Wah looks set for a prosperous future. I can see why.
From the menu: Egg fried rice $8, Beef with ginger $13.80, Salted & spicy squid $15, Peking duck (two courses) $45, Jellyfish with pork hock $16
Drinks: BYO