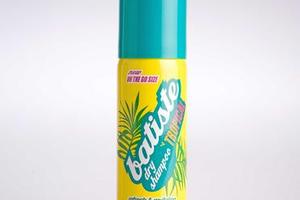 Dry shampoos are the low-profile oddballs of the hair cleaning world. Their main fans are travellers and backstage fashion show stylists, especially time-poor ones.
If you hair tends to go oily or limp and you don't have time to wash and dry it, you may be a good candidate to try a spray-in, brush-out reviver. I don't like the feel of dry shampoos, but a friend who works in television, travels for her job and has to look good on screen at a moment's notice reckons any icky-sticky initial sensation is worth getting over for the convenience of being able to fix your hair without first stepping under the shower.
The telly babe tested a selection of dry shampoos and said steer clear of the one in the purple and gold bottle that turned her hair to straw. Her advice, though, is to give the category a go. She said it could be hard to gauge how much to use: "Too little leaves your hair still feeling limp, but too much will actually start to weigh it down again."
The best application is to spray the hairline and parting first and then brush the hair, before having another spritz if necessary.
"People shouldn't panic if their hair turns a little paler from it, the formula brushes out easily, returning your hair to its natural colour."
Fudge Dry Shampoo
$22
When a youth-oriented brand like Fudge brings out a dry shampoo you know the product's dusty image is moving on. This can arrived just after our tester had reported back, but I gave it a quick spray and found the result more satisfying than some of the other dry shampoos I've tried. It contains apricot kernel oil which brushes through for a nice soft finish and the smell is fresh. The idea is to spray, massage it in, leave for two minutes then brush out.
Laboratoires Klorane: gentle shampoo with oat milk
Recommended by a friend, this formula works well enough on blonde hair, but the oat milk ingredients are sure to cause problems for those with darker locks. In its favour, this dry shampoo leaves your hair feeling soft and silken after you first apply it, but it's rejuvenating effects don't seem to last as long as others.
Batiste Original Dry Shampoo, travel mini
$7.99, full size $14.99
It's the original dry shampoo and undoubtedly still the best. The Batiste formula leaves your hair feeling light and clean - and keeps it that way for a good 24 hours after application. The fine mist will lighten dark roots, but not leave them white, as other formulas do. (In original and tropical fragrances)
Stockists: Dry shampoos can be hard to find, but try pharmacies or talk to your hairdresser. Fudge stockists, ph 0800 456 426.