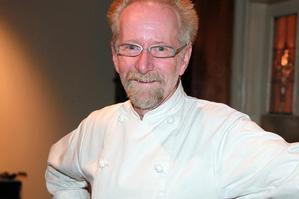 Masterchef guest star Tony Astle won't hire women or fat people in the kitchen of his exclusive Auckland restaurant.
The Auckland restaurateur - who reckons UK TV chef Gordon Ramsay is a "pussy" compared to him - says he has also sacked five waiters and chefs in recent years who were using P.
The industry here suffers from a "huge drug problem", Astle says, so he generally tells future employees, "if you are going to have a problem, have a wine problem".
Astle is the chef and co-owner of Antoine's in Parnell, which over the years has hosted royalty and celebrities including Sir Elton John, Rod Stewart and Cliff Richard.
Astle says he does "not like fat people in his kitchen because they sweat a lot and take up too much room around his tiny kitchen."
And men "make better chefs than women" because they have better palates and less "issues". Men spend too much time "perving" if there are women in the kitchen, he says.
Male chefs can be "dirty little buggers with their minds in the sewers" and he would rather not subject a female cook to that.
Astle, who will appear on MasterChef on Wednesday, also won't employ Kiwi waiters because none is "decent" enough. He laments that "it's not regarded as a profession here".
But, despite his scepticism about Kiwi waiters, Astle says he is so impressed by the top 11 Kiwi chefs that he has offered one a job.
Astle leads a two-hour challenge on MasterChef cooking two of his signature dishes.
One is a Thai curry made from tripe; the other a difficult berry and meringue roulade.
Astle, who opened his first restaurant in his early 20s, warns MasterChef viewers that he is no cuddly, high-praising chef.
He promises the show is likely to be littered with "beeps" from his swearing.
"Gordon Ramsay is pathetic compared to me; he's a pussy!"
With the filming of MasterChef behind him, Astle is working on fronting a new TV cooking show similar to the format of UK celebrity Rick Stein's shows.