Rating: 4/10
Address: 162 Hamilton Rd
Phone: 09 425 0306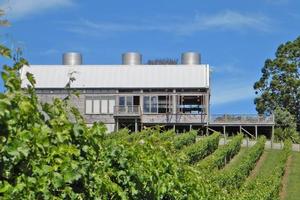 This year has been a dream run eating out-wise. All the restaurants I've reviewed have been wonderful, hence the high scores. So, with hope in my heart and an appetite for more culinary highlights I headed north with my mum for a day trip to the boutique town of Matakana and its surrounding area. We had our sights set on Mahurangi River Winery for lunch as their restaurant has recently re-opened after a two-year hiatus.
The building sits impressively high above the rows of vines and is a great design, with its metallic cylinders jutting skyward, big airy shed-like feel and a healthy looking kitchen garden on the doorstep.
The menu features all the usual lunchtime suspects - lamb fillets, free-range chicken, market fish, pasta, nicoise and caesar salads and more, all priced at the upper end for lunch. Some very inexpensive oysters ($19 for a dozen) caught our eye and discovering that the chef could prepare half of them "tempura'd" (my favourite way to enjoy oysters) and half au naturel (Mum's fave) we promptly ordered them. While waiting for our starter we enjoyed the tranquil view over glasses of the very acceptable Mahurangi River chardonnay.
All seemed an idyllic way for some mother/daughter catch-up time. Then the oysters arrived. My mother, who has sampled a few raw oysters in her time, had some concerns. Missing was the desired plumpness and moist glistening that can indicate freshness in an oyster. First slurp and she was convinced these were neither freshly shucked nor recently plucked from the sea as there was none of the usual ocean flavour that raw oyster fans enjoy so much. My tempura'd half dozen were equally disappointing - stone cold and thus the batter, famous for being crisp and light, was chewy and greasy. Perhaps our luck would improve with our mains.
I'd chosen the snapper on a risotto with a vinaigrette dressing. I've said it before but it's worth repeating - fish barely needs cooking. The chef at Mahurangi had cooked all freshness out of the snapper fillets and they were dry and tasteless. The risotto resembled rice cooked in stock as opposed to a genuine risotto that owes its creaminess to the starch released from the rice during the cooking and stirring process. When asked by our waitress how our meals were I politely mentioned the over-done fish. The waitress handled it very well and indicated that she would pass it on to the chef. Watching her re-enter the kitchen, and her movements during the remaining time we were there, I very much doubt that message was ever delivered. It is critical that wait staff honour the relationship between dining room and kitchen by providing feedback from the diners to the kitchen and that chefs make themselves approachable enough so that floor staff can give them feedback. Restaurants without this link in the chain will always struggle with delivering a quality experience.
Our other main meal was crumbed goats cheese on a salad of watercress, baby beets and candied carrots. Though pretty enough when it arrived, this dish was a let down. The "baby beets" were teenagers at best and quartered to try to trick us about their age. The carrots were not cute either and candied just meant "sweetened". The goat's cheese? Mum's comment: "Nothing spectacular. Let's face it, crumb and fry anything and it's good." She's right.
We are a family of optimists so desserts were ordered in the hope that "perhaps the chef is more of a pastry chef by trade". As everyone knows, the first joy of a creme brulee is cracking the top with a spoon to reveal the cool cream below. No joy with this one - the sugar had not been applied evenly or liberally enough so the toffee was not worth cracking. The creme was fine, if a tad warm.
They say we eat with our eyes first. My "fruit trifle with summer berries" consisted of layers of yellow and brown poached fruit, topped with one boysenberry (or was it a blackberry?) and three blueberries and stale mascarpone. I tasted it to make sure that my eyes weren't tricking me - they weren't, it was awful.
It should be so easy to impress diners at this location. The chef needs to focus on serving fresher, better quality food, cooked well and management needs to focus on training the staff to deliver a more confident and welcoming service. It is so disappointing to see a good asset going to waste.
Oh well, I guess my luck had to run out sometime.
From the menu: Oysters (doz) $19, Snapper on risotto $29.50, Goats cheese $17.50, Fruit trifle $12.50, Creme brulee $12.50
Drinks: Mahurangi River chardonnay $14 / glass
1-4: not good enough 5-6: OK but needs work 7: recommended 8: excellent 9-10: outstanding, book immediately.