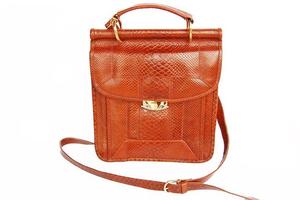 As the autumn/winter collections begin going into stores, Viva brings you 20 easy ways to update your wardrobe.
Clogs and crochet
The obsession with the aggressive 80s - all flashy sequins, studs, sharp shoulders and over-the-knee leather boots - now seems a bit stale. A softer aesthetic is sweeping the fashion landscape, almost harking back to the earthier chic of the 70s. Hippy inspired crochet has been appearing in various ranges but more frequently on the streets in vintage form. And clogs, possibly the most awkward form of footwear ever, are back from the 1970s with a vengeance. Chanel's platformed numbers are the ones to covet for the season, or a far more accessible version are Swedish Hasbeens - we particularly like the pastel braided high heel version.
Stripes x 1000
Stripes certainly aren't new, but expect plenty to arrive in stores over the next month or so. Classic, Breton style stripes appear at Workshop, Twenty-seven Names and Karen Walker, whose collection features stripes in various incarnations whether it be ruffles with white trim, traditional striped boat-neck tops or luxurious striped cashmere.
Update the classic look for autumn by going for unexpected striped pieces; Givenchy's bold striped monochrome jackets should be your inspiration.
Sorbet shades
Bye bye Little Black Dress - well probably for one season only. This winter it's all about the pale beige, pretty pastels or "soft sorbets" as they have been termed by fashion glossies. Kate Sylvester's pink ruffled dress is key to the season, but her gorgeous powder blue "Martine" dress is probably more wearable for everyday.
Military
Channel your inner Goldie Hawn in Private Benjamin with something military inspired. But modern military has a casual edge to it, with slouchy cargo pants, shirt dresses and multi-pocketed jackets. A good rule of thumb for winter goes something like this: if it's khaki, get it.
Something furry
Fur, both real and fake, was one of the key trends that came from NZ Fashion Week last year, appearing in collections from Kate Sylvester, Lonely Hearts, Stitch Ministry, Sera Lilly, Alexandra Owen and Stolen Girlfriends Club. Whether it be a fur jacket, stole, muff, chubby or accented bodysuit, designers are going fur crazy for winter.
Get graphic
Overseas the look for prints has been bold and eye-popping, with intense colour and graphic digital inspired prints, from Stella McCartney's digital floral to Alexander McQueen's stand-out reptilian prints to Miu Miu's daisy and cat prints. Locally, winter prints come in many a paisley form, with Karen Walker's crazy floral and Lonely Hearts' sweet 70s-inspired paisley.
A cape
A nice alternative to your typical coat, capes have been popular with our local designers, with several options from Deborah Sweeney, Huffer, Cybele, Twenty-seven Names and Juliette Hogan. To really update your wardrobe for winter, go for a bold, standout piece - whether that be Cybele's dramatic black floor length cape or Hogan's pretty pastel numbers with oversized bow.
Embellish me
Bring some glamour into your winter wardrobe with sequins and all things shiny. The queens of bling, Trelise Cooper and Yvonne Bennetti, are your obvious go-to's for this look, but also try more surprisingly blinged-out places, like Blak Luxe's sequin tops, Country Road's gold and silver mesh sweaters and Kathryn Wilson's glomesh detailed ankle boots.
The perfect shirt
Finding the perfect shirt will change your wardrobe forever. You want one that is perfectly tailored, crisp and buttoned up, and another that is mannish and oversized - both of which can be worn with anything and will stay in your wardrobe forever. Labels that encapsulate that idea of timelessness and ignoring trends offer the best shirting options - think young labels Alexandra Owen, Sherie Muijs or Helen Cherry.
Pants
The only way to wear pants for winter is to crop them. Get them taken up so they finish just above the ankle, or cuff them instead. From Country Road to Twenty-seven Names to Zambesi to Huffer to Helen Cherry to Lonely Hearts, cropped pants are everywhere, and incredibly easy to wear too (they'd look great with your newly purchased perfect shirt).
Black velvet
Well, any velvet actually. Traditionally thought of as old fashioned or luxe, our designers have given it an edgier makeover to be worn everyday. Think of Sera Lilly's subtly sexy red velvet dresses, Twenty-seven Names crane-printed pieces in shades of blue or Salasai's crushed velvet skirts.
Coat tales
Winter coats are expensive, no news there - so now is the time to decide which one is yours for winter and start saving for it. Steer clear of black and bring something fresh into your wardrobe - Ruby has done a great range of coats, and Karen Walker's bright blue peacoat will brighten up even the dullest of winter day.
Ruffles
Textured ruffles are another result of fashion's changing mood to something softer. Frothy and feminine frills will bring some romance into your wardrobe - think of Chloe Sevigny's Golden Globe gown by Valentino, which featured cascading ruffles in shades of lavender. Pretty. Karen Walker has an overload of ruffles to keep you going through until the end of winter, with girlish dresses and more edgy tops - or try Stolen Girlfriends Club's shirts, jumpsuits, jackets, skirts and dresses with subtle ruffle detailing, and Cybele's standout dresses with a sculptural take on the trend.
Overalls
Warning: camel toe alert. Dungarees and overalls have appeared on the runway (Jean Paul Gaultier sent out denim dungarees for spring 2010), but they are much more popular on the streets and style blogs with young girls wearing them ironically. If you're stylish enough to pull them off, then go right ahead: wear them with loose casual jumpers underneath and beware the creepy little girl connotations.
Bag it
Mulberry recently released the "Alexa", a satchel bag named after everyone's favourite TV presenter/style icon, Alexa Chung who has a penchant for slouchy vintage-look satchels. Good luck managing to get your hands on one - they sold out from Net-a-Porter.com. Instead you could support a local handbag designer by buying a satchel from Lost Not Lonely or Saben (who are set to release a capsule range of handbags for The Warehouse next month).
An a-line skirt
Phoebe Philo welcomed in a new minimalist attitude with her first runway collection for French fashion house Celine with a collection of clean lines, simple silhouettes and clothes that women actually can and want to wear. The simple A-line skirt, also seen at Stella McCartney, was a key piece to the range - in leather or denim.
Leather
It's not all pretty pastels and floaty frills: leather is still popular, from biker jackets (Moochi, every chain store in town) to pencil skirts (Helen Cherry) to dungaree style dresses (Ruby) to full skirts (Deadly Ponies).
White out
The black boyfriend blazer is a bit boring now - a much fresher option is a white blazer. Kate Moss was spotted wearing her white jacket three days in a row recently; and if Moss does it you know it's going to be big, right?
Navajo
Somewhat related to the popularity of graphic prints, Navajo-inspired pieces are set to be a mini trend for the season. Hip New York boutique Opening Ceremony have done a fantastic collaboration with Pendleton, with a range of Native American patterned pieces, and locally Stolen Girlfriends Club have released a jacket, hoodie, vest and stand-out hooded cape with a unique Aztec print.
Shop!
Support our local designers - go shopping! See something, anything, that you like, buy it, and just like that, your wardrobe update is complete.