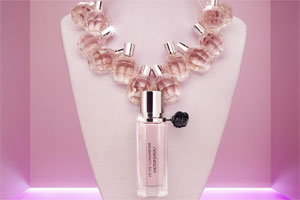 If you're buying perfume for Valentine's Day and you're not sure what to select scent-wise, then why not say it with words. Here are a few new perfumes that will send a message before the bottle is even opened.
1. Pure is the latest DKNY perfume from Donna Karan. Its selection surely indicates the recipient is on a pedestal. And who wouldn't want to smell of gentle florals, underpinned by vanilla?
(In three sizes, from $90. Send her a promise note, it's on counter February 22.)
2. With a name like Love, this limited edition version of the perfume Love by Nina from Nina Ricci, sweetly signals the message. The green apple bottle is the freshest thing about this youthful concoction, which is more sugary confection than forbidden fruit.
(50ml eau de toilette $89.)
3. Seductive is the name of this Intelligent Nutrients aroma. Made from certified organic ingredients, this line is new to New Zealand but has a pedigree, being from the Austrian environmentalist who originally set up plant-based cosmetics firm Aveda.
Each of seven entirely natural aromatics can be used on skin, body or hair. This one is designed for intimacy and mixes aphrodisiac nutmeg, clove and vanilla.
($75 at The Department Store, Takapuna, Lucy and the Powder Room, Newmarket.)
4. If you're interested in getting down and dirty with someone who does your head in, try Ange au Demon Le Secret from Givenchy, a crisper spin on the heady original, with a champagne pink bottle that suits this lighter eau de parfum. (50ml $132.)
5. Apples crop up again in Be Delicious Fresh Blossom, a new twist on DKNY's pleasantly fruity floral for the well-mannered Eve in your life.
(50ml eau de parfum $125.)
6. Euphoria by Calvin Klein is the new eau de toilette sheer oriental version of the 2005 scent. Amid exotic florals and fruit notes and white sandalwood, there's an accord of Bailey's Irish Cream for a lingering, rich finish.
(Three sizes, from $80.)
7. The Body Shop has a Valentine's Day range called Love Etc, a suitably 21st century summing-up of all that romance jazz. Its vanilla-based floral scent and body butter make for affordable giving.
(From $38.)
8. For him, how about Happy For Men from Clinique - nothing too cloying there. (50ml $76.)
Size doesn't matter
Purse-size perfumes are a lovely present, so think quality not quantity.
A small bottle is easier to slip into a bag and is a nice way to try out a new fragrance or afford an extra old favourite.
Until recently it was rare to see anything smaller than 30ml, except as a value-added addition to a gift-boxed fragrance, but now smaller sizes are being marketed for standalone sale. Here's a few examples.
The opulent Flowerbomb by Viktor & Rolfis one of the more romantic scents of the modern era and now for Valentine's Day it comes in a 20ml eau de parfum. ($80 from The Department Store, Takapuna).
The popular Viva La Juicy and Juicy Couture scents are newly launched in 15ml eau de parfum versions for $39.
The smallest standalone seller is M by Mariah Carey in a rollerball. ($35 for 7ml from Farmers.)