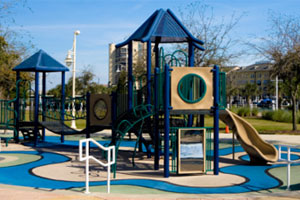 Ever licked a nine volt battery?
From memory, when we used to do it as kids, it was actually quite energising, if a little zingy, metallic and then slightly numbing. But it never did us any harm.
That little gem from my past is just one of the suggestions in a book you may have heard about called, Fifty Dangerous Things (You Should Let Your Children Do) by Gever Tulley and his wife Julie Spiegler.
It recently topped Amazon's Kids Active Books site and is steadily climbing the bestsellers list.
I ordered a copy earlier this week out of curiosity, and I'm also keen to see how our two-year-old Mia goes when she's let loose on some of these "dangerous" tasks.
She'll do fine I reckon, although I might save driving a car until she's three - or at least until she can see over the dashboard when she's sitting on my lap.
By the sounds of it, the book is just a bit of fun - and quite a bit of nonsense - but the authors insist there is sound reasoning behind the 50 things they suggest.
"We must protect children from danger - that's the promise we make to them as a society," said Tulley recently in the Observer.
"But when that protection becomes over-protection we fail as a society."
Fair enough. But what exactly does letting a kid lick a nine volt battery teach them?
Back in the day, like many things kids do, it was just something we did for the hell of it.
Turning a stove element on and letting them touch it, or sticking a screw driver in a plug socket, now that would teach them a lesson, but would you really let them do it?
I'm probably one of those parents at the more protective end of the scale. Until recently I used to stand by at the ladders and climbing nets at the playground.
Then again, I'm all for kids fending for themselves and learning from their spills and thrills.
There are other things they suggest in the book: like throwing things from a car (yes, an apple core, but not a brick), chucking things from high places (yes, from up a ladder, but not from a motorway over bridge), and glueing two fingers together to make them appreciate the fact all their limbs function (but why not just use insulation tape?).
So some of the suggestions are silly, and some are simply teaching kids to be stupid more than anything else.
But while you may be sceptical about Tulley and Spiegler's thinking, you can bet their kids' friends love going round to play at their place.
Like I said, I've ordered the book so I haven't read the whole thing yet, but when I do get it watch this space for updates on how Mia goes when she attempts the battery lick and other exciting stunts.
In the meantime, if you see her driving my car down the road be sure to stop her and tell her to wait for daddy, ok?