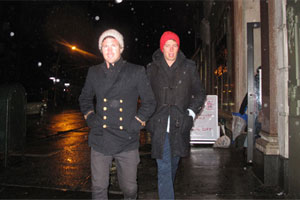 Stolen Girlfriends Club took over New York City last month: creative director Luke Harwood gives Viva an exclusive insight into the trip.
SGC wins
Back in September last year we were named the winners of the Air New Zealand Fashion Week export award. The award entitled the label - run by myself, Dan Gosling and Marc Moore - $30,000 worth of overseas travel with Air New Zealand to use to help develop our business at an international level.
Most of our current business to date has organically evolved around the globe from Japan/Asia, Britain/Europe and domestic markets in Australia and New Zealand.
The United States has been a market we have put on hold, basically because it's a huge market and until now we've felt it's probably one of the last markets to tackle and we'd wait for the right person/agency to approach us for distribution of the Stolen Girlfriends Club brand.
In the meantime though we have had a lot of demand and interest from the US, and we've dealt directly with some smaller key accounts.
In November we were contacted by organisers of "Capsule", who run a high-end trade fair in New York City, Los Angeles, and Paris, and were invited to attend their New York fair. We felt we should take up the offer and look more closely at the US market, meet with our current stores in New York City and follow up some media interests ... and possibly meet the right agent or distributor to handle Stolen Girlfriends Club in the US, moving forward.
This is the first phase of spending the export budget prize money - the rest will be on tropical surf trips to Hawaii ... joke!
At the fair
The brand and winter collection were well received by stylists and the like at the Capsule Trade Fair: some knew more than others about the brand but it was certainly on people's radar and they were interested to meet us and view our aesthetic and collection.
We put this interest mostly down to the influence of some key international bloggers and stylists who have followed the brand over the past year or so and exposed the rise of Stolen Girlfriends Club.
The stylists who came through the trade fairseemed to love the collection and the feeling of the garments; they could imagine working with the pieces and styling them in editorial. Stylists have always helped expose the brand over the years, so it was cool to tap into these contacts and finally meet some of them.
We met this really cool local stylist, she had fantastic style and we ended up giving her a bunch of garments that she wanted to use in a shoot.
Future deals
The Americans are really upbeat and everything gets talked-up, so it's important to be confident and proud of what you're doing, and really sell it. Most of the new business interest was received from a diverse mix of small directional boutiques in Soho, San Francisco and Toronto, along with some major interest and meetings with Urban Outfitters, Bloomingdales and Barney's Co Op.
It was certainly flattering to have these big department stores chasing us, but returning home we must now make the best decisions for the brand. Some of the department-styled stores we feel aren't fitting with the brand yet and we would like to build more US brand presence before committing, to ensure strong sell-through.
But we look forward to building relationships and doing business with the smaller directional boutiques which will build the demand for the brand and help with the wider demand.
The feedback from Urban Outfitters was great, they thought the range was different to what they have been seeing - "There's so few women's lines going in a fun, edgy but sexy rock 'n' roll direction ... It was refreshing!"
Jil Sander wants to wear Stolen Girlfriends Club
True story ... well, not quite. We went to the Jil Sander concept store on Howard St - a very beautiful store and certainly a nice shopping experience, a refined and modern space with marble floors and revolving negative mirror panels detailing. I was looking for a new suit for my wedding day, which I found and threw down a coin on a beautiful, classic-styled suit.
Although Jil Sander is no longer head creative - she got bought out some time ago - I've always loved the understated and strong aesthetics of the brand and marketing campaigns over the years.
While there, the salesman fell in love with our Winter 2010 double-breasted tweed blazer with gold button detailing that our mate Huw Bennett, of Australian label Vanishing Elephant, was wearing.
He liked it so much that he wanted to order one for himself. We decided what the heck ... and left it with him. He was so stoked he invited us to the next Jil Sander show at NY Fashion Week as guests, we were flattered. Another reason to go back.
At The Thompson
We stayed at The Thompson on 190 Allen St on the Lower Eastside of Manhattan - a slick, boutique-style accommodation. Having family and interests in New York on my fiance's side, I have the basic bearings of the lower east, Soho and Meatpacking district, so I was able to navigate us around the city.
Most mornings we'd stroll to Cafe Gitane for breakfast, a cool little French-style cafe with cute girls working there, much to Marc's delight. The place is low key and down-to-Earth with good food, and you often bump into the likes of photographer Terry Richardson having a coffee out the front in the sun.
Painting the town red
The Thompson happened to house one of the coolest happening bars in the area with Mark Ronson as the in-house DJ. This meant at the end of every day we'd shower back in our suites, grab the lift down to the 7th floor where the bar was and straight into a few whiskeys ...
We all had our own rooms and being a bunch of cheeky surfers, we'd all be kindly getting rounds for each other but tabbing it up to the other's rooms without them knowing, especially on our mate Huw's room. The Americans loved us because we partied so hard, every day!