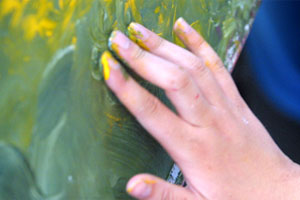 I don't know why fate arranged it this way but the most appropriate kindergarten for my 3.5-year-old son is a very good one, close by, that has a concerted focus on visual arts.
Good on him for trying, but if he takes after me he will simply never be able to put pen to sketch pad with any positive results.
That doesn't mean it can't be fun, or that he won't be enthusiastic about his creations, but it will probably rule out a career in anything requiring an eye for design.
He might well take after his father, who is actually an excellent artist. But what Ali has in talent, he doesn't have in temperament.
He once attempted to sketch me reclining and started with my feet. Quite true to life, they took up half the page and looked rather similar to those that might be created by Weta Workshop for Bilbo Baggins.
I laughed heartily with self-pity, and my husband threw down his pencil and refused to draw anything ever again.
I suspect, however, that my son's artistic talent may be more in my camp after an effort he produced recently.
With great pride, he exhumed the contents of his kindergarten Wiggles bag one afternoon this week and fetched me up a torn and tattered piece of work.
I was lost for words. But not in a good way.
There, on this rumpled piece of paper, was one piece of red macaroni, stuck on with about 25 separate pieces of sellotape.
Typically, for a modern parent, I was eager to try and praise this proudly presented piece. But literally I could not. I think I managed a weak "well you like sellotape, don't you?"
It hasn't dented my son's self esteem too much, I don't think. He certainly didn't act as though not adding the work to his current gallery was any great indignity.
I did save the piece, but only to show Ali later on that night. He was also lost for words.
He quickly found them. "I see there the fight of the individual against the constricting forces of society here,"said he. "The boy is clearly a genius!"
"I think he's portrayed an embryo in the womb," I said...
"He's saying, as he does from time to time, 'give me a brother who we can call 'Little Me'. I can be 'Big Me'."
"No no no," said husband.
"I actually think the macaroni looks like a crescent. What he's saying is that the politicisation of Islam is causing a widening chasm between societies within Western civilisation."
Well, all I can say is that if he is trying to say something more than "I only managed to get one piece of macaroni to stick to the paper - and I made sure it stuck good", it's unfortunately lost to modern civilisation.
Until the next work of brilliance arrives hot off the kindy easel!