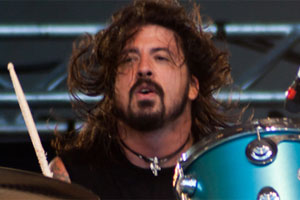 It sometimes pays to stay for another beer. But when you're a dad, there's always a nagging feeling that you should get home, get a good sleep, and be semi-refreshed for when the little one wakes up at 6.30am-ish.
On Saturday night, I rebelled. And I'm glad I did.
Following a gig by Them Crooked Vultures at Vector Arena, a cracker show by a super group made up of Dave Grohl (Nirvana, Foo Fighters), John Paul Jones (Led Zeppelin), and Josh Homme (Queens of the Stone Age), a few friends and I found ourselves at Quadrant Hotel's swanky bar in the central city.
It was always going to be a semi-big night because those three famous rock guys I mentioned are legends - and all musical heroes of mine. So a few celebratory beers were in order.
I'd already had one for the road and was about to head home. But a friend twisted my jelly-like arm into staying on. And it's just as well he did because half way through that next tasty ale, who should stroll through the door but Dave Grohl and his bass playing side-kick and living legend John Paul.
I really had to go home, but I stayed.
Well, I stayed long enough to meet and have a chat to two thirds of my new favourite band and then I was off home.
In hindsight I probably should have stayed for another because five minutes after I left Josh Homme of Queens - probably my favourite band of the noughties - swaggered in.
But hey, I can catch him next time he's in town because it's funny how your attitude to staying out late changes when you have kids - and you have to get up early.
My wife and I used to love staying out until all hours, but now we find ourselves keen to get home to Mia at a reasonably respectable hour, which also makes it easier in the morning.
It seems that sort of thinking also extends to rock stars because Grohl, Homme, and Jones (who met his wife way back in 1965) are all confirmed family men.
After a long stint on the road they were looking forward to getting home to their partners and kids. (Although, who was that girl having a cheeky stroke of Dave Grohl's hair at the bar?).
And besides, while it was great to meet a few of my musical heroes, there's nothing better than waking up to the dulcet and cute tones of "mummy, daddy, mummy", in the morning.
That beats being serenaded by Josh Homme any day.