Address: 118 Ponsonby Road
Phone: (09) 378 7979
Website: ellacafe.co.nz
Rating: 8/10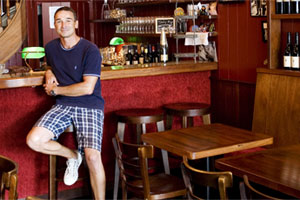 What a lot can happen in a decade. Especially if you're a restaurant location on Auckland's famous food strip - Ponsonby Rd.
Ten years or so ago 118 Ponsonby Rd was home to Stella - the coolest hangout we thirtysomethings had come across. Staff were hip, the space was so small you always felt lucky to get in and it succeeded with what is sometimes the difficult cross-over, of being both bar and restaurant. We loved it.
Then it closed. Over the ensuing decade it's been a number of different eateries, but talk to any of the Stella stalwarts and they all agree that none of its replacements have ever quite made the grade.
Turns out one of the previous staff from Stella, Erwin Zimmet, was also missing the place. So when No. 118 Ponsonby Rd came up for lease, yet again, Erwin pounced, opening a bar and dining lounge.
He's called it Ella, a nod to the former star, and convinced Becky Lamb, another previous Stella staff member, to come on board as head chef. Revamped in the latest craze of dark wood panelling, exposed shelves laden with bottles of wine and specials scrawled on a blackboard, the ambience is irresistibly welcoming.
Two things to note about Ella's menu: it's short and features sardines. Oh, and one more thing: it's well-priced with all starters under $15 and no mains over $30. Price doesn't really matter to me if the food is fabulous, but I like it even more when I'm not having to take out a loan, or worse, curtail my eating out habits, because I can't afford it.
With the arrival of our starters - sardines for me, baby squid for the date - I realised affordability can deliver great quality with a chef who knows what she's doing. My plate of two plump, butterflied sardines, crumbed in a parmesan and panko mix and crowned with a large dollop of citrus aioli, were sensational.
Sardines are not an expensive fish and highly underrated in this country. I recommend looking out for these silvery specimens the next time you're at your local fish shop and flinging them on the barbecue with a splash of olive oil, chopped parsley and a squeeze of fresh lemon. Meanwhile, visit Ella.
The other starter also made great use of an inexpensive seafood and put it to delicious use. Baby squid had been stuffed with a smooth paste of red capsicum (chargrilled by the taste of it) and lemon, and the taste I scrounged was so good I was motivated to buy some squid two days later to cook at home.
There are only six mains on the Ella menu, but each one looks interesting; beef eye fillet with a green peppercorn sauce, veal schnitzel with a German potato salad, pappardelle with lemon and ricotta.
I've long since stopped ordering risotto when I'm out as I cook enough of these in my own kitchen to suffice. However, when our waitress (who was fantastic - relaxed, present and seemingly enjoying her job) mentioned that the seafood risotto came with cockles, mussels in their shell, calamari and white fish, I was swayed.
What arrived was the best risotto I can remember eating in a decade, and that includes those I sampled while travelling in Italy. It was just "loose" enough without being sloppy, packed with seafood and cooked with a delicate tomato stock. A small amount of finely grated parmesan finished it perfectly.
My date declared the fish of the day - salmon fillet on celeriac puree with fresh beans and peas - beautifully cooked and well-balanced, with the flavour of celeriac lending its combination of flavours (celery, parsley, a hint of anise) nicely to the salmon. A forkful later, I agreed wholeheartedly.
Portions aren't stingy at Ella, so neither one of us had much of a hankering for dessert but the selection looked tempting: chocolate mousse terrine, summer pudding, zabaglione torte and pavlova with passionfruit curd and cream. It was the waitress' description of the summer pudding - "packed full of raspberries" - that convinced us to share one of these magnificent desserts.
The perfectly moulded, blood-red little mountain was indeed jam-packed full of syrupy raspberries that, though a bit pippy, were a great reminder that we're in mid-summer and therefore need to be making the most of the berry bonanza while it lasts.
What can I say? With its simple menu, on to-it staff, a lounge-like interior - Ella, you're a star.
From the menu: Parmesan crumbed sardines $11 Baby squid stuffed with capsicum and lemon $12, Seafood Risotto $26.50, Fish of the day $27.50, Summer pudding with vanilla icecream $12.50.
Drinks: Fully licensed, reasonably priced wine by glass
* 1-4: not good enough 5-6: OK but needs work 7: recommended 8: excellent 9-10: outstanding, book immediately.