Where: 33 King Edward Parade
Rating out of five: * * * *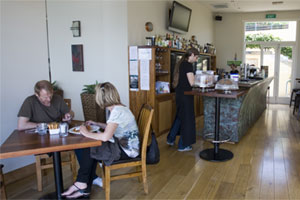 We came here because this is a great site, right on the seafront and within walking distance of where we live, but previous cafes have floundered. We were interested to see if Platters might have what it takes to survive.
Parking was not a problem as we walked.
We walked in and immediately thought the menu looked far more interesting than what was on offer from previous cafes here. The decor was slightly better, too, though still fairly bland.
The most exciting thing on the menu was the Spanish deluxe breakfast of slow-braised baked beans with napoli, chorizo, red onion and toasted Turkish bread with two poached eggs ($15).
We ordered the Spanish deluxe, of course, plus the vegetarian breakfast of sweet potato chickpea corncake with spinach, field mushrooms, scrambled eggs and ricotta red bell pepper parfait ($14.50). Both were excellent and plentiful. The Spanish deluxe was interestingly spicy without being too much.
The vegetarian breakfast offered a wonderful mix of tastes.
The service was perfectly adequate.
The coffee was good but barely warm enough.
We recommend if you come here you have a wander around afterwards to let the food settle, and enjoy the art gallery on one side, the bespoke jeweller on the other, and the newly sanded Torpedo Bay Beach just down the road.
Overall we thought Platters deserves to succeed. The menu - including what's on offer later in the day - is a good mix of well-produced standards and the interestingly different. And it's hard to beat being able to sit and watch the passing parade of boats and bathers, joggers and dog-walkers. They just need to serve the coffee a bit warmer and perhaps liven up the ambience a little.