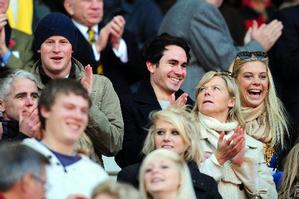 Prince Harry has reportedly moved into his girlfriend's London home after he recently reunited with her after breaking up last year.
He is said to have received his own set of keys to girlfriend Chelsy Davey's £1.5 million (NZ$3.4 million) three-bedroom apartment in London's upmarket Belgravia neighbourhood, reports The Sun.
Harry, 25, is said to stay in the apartment with his royal protection officers when he has weekends away from his Army Air Corps helicopter training.
Before the move, Harry stayed at Prince Charles Clarence House but sources say that Harry felt his quarters were "too cramped" says News.com.au.
Girlfriend Chelsy, 24, is currently on vacation in South Africa.
She plans to then travel with friends to Thailand before returning to England and starting work at a law firm in London.
Harry and Chelsy broke up in 2009 after five years together.
Both were said to be dating other people after the break-up but reports say they have recently started going out again and spent New Years together in Mauritius.
- NZ HERALD STAFF