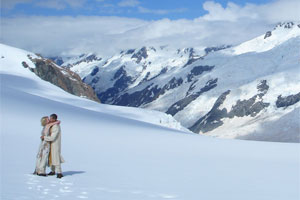 Now this is a real white wedding.
South Australian couple Gary Cook and Melinda Gaughwin are among a growing trend of people looking for unusual locations to take their vows - in their case getting married in temperatures close to 0C on the Tasman Glacier, near Aoraki-Mt Cook.
The newlyweds topped the big day off with an afternoon hike up the Hooker Valley.
"We were just blown away by everything ... it was beyond our wildest dreams," Ms Gaughwin said.
Hermitage wedding planner Nyree Schaar said she had noticed an emerging trend towards "destination weddings", with couples moving away from a traditional wedding at their local church or home.
" We're seeing more couples, particularly those from Britain, America and Australia, choosing to wed in the special surrounds of Aoraki-Mt Cook," she said.
"Last year we hosted 24 weddings in total but by the end of March this year we will have already hosted 28."