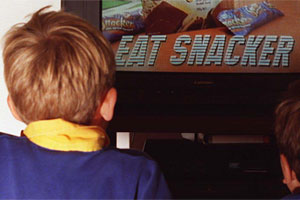 Following my 'Tinker Bell the evil fairy' piece last week, a parent got in touch about their two-year-old son who had never watched TV.
Get this, since returning from overseas they hadn't got around to hooking up the idiot box. And what do you know, their little fella is happy playing with his toys rather than zoning out in front of what a friend of mine calls "the third parent".
Now, this person was not being righteous and narky about the evils of TV. It's just that circumstances meant the TV stayed off which - as they quite rightly pointed out - put them in an extreme minority.
I love TV, I don't mind my little girl Mia watching it within reason, and wouldn't be without one. But, it got me thinking about how you encourage little ones to amuse and entertain themselves without flicking a switch (be it a TV or any screen for that matter).
Much of it comes naturally - and the right activity is key.
Give the kid some water in a bucket on a hot day and you can sit in your deck chair reading as hours upon hours meander by. Okay then, make that half an hour or so.
My little girl Mia loves her paddling pool and "nudey rudy" time out in the backyard.
She loves tea parties, cruising the pavers on her trike, and gardening (which can be a bit messy but you gotta let them try it).
Indoors, she loves putting her many dollies to bed like one big slumber party; she flicks through books; and while she's probably a little too young yet for her new dolls' house from Nana and Grandad, let's just says she's ever-so proud of it and gives it the occasional hug.
But she can't do without regular cuddles and attention, in between amusing herself, and we're more than happy to provide all that.
It is amazing how one minute kids can be the most fiercely independent beings on the planet, and the next all they want is love.
And good times can also suddenly turn frustrating - like when you're trying to get out the door in the morning or handle a hot dish in the kitchen, and they're hanging around your ankles.
Which is why, and I hate to say it, sometimes TV is a blessing, especially for half an hour at 5pm when she's exhausted and I'm getting the dinner on.
But for us, with an only child in the house who likes to have all our love and attention, which we adore giving her, it's a balancing act between her happily amusing herself, watching a little TV, and being able to tug on our leg for some love.