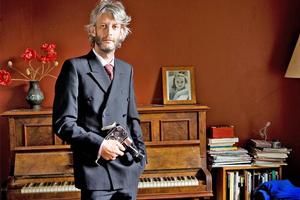 An ode to the beauty of Super 8 film, reelfilm.co.nz is the brainchild of Josh Hetherington. The photographer and musician, who also works at 95bFM, set up the business in which he captures and documents weddings and other special occasions on Super 8 film. He discovered a vintage camera in Sydney and was inspired by the unique images it produced. The short films cut to music are nostalgic and romantic, with a look that simply can't be recreated with digital video. Hetherington tells us about his favourite things.
10 Favourite things
My wedding suit
Tailored by Payne Tailors in Karangahape Rd (finally, the best excuse to get a suit tailored). It's a double-breasted, single-vented, self-striped, black wool fabric suit designed by Nasir Ali. It's a beautiful, structured, English-style suit, inspired in part by a series of images of modish 1960s-era suits, including a variety of Beatles suits from the later half of that decade (Ringo was invariably the most sartorially elegant if you study the pictures).
With eight buttons - three of which do up - it's not your typical double-breasted suit, but rather a more contemporary cut with a high break and close fit on the jacket. The trousers are also a close fit with a slim leg and slight boot cut from the knee down.
Bolex P1 Zoom Reflex 8mm camera
From 1961; considered to be a marvel of form and function. Beautiful design - state of the art in home-movie making just prior to the explosion of the Super 8 format. This one's in beautiful working condition and has a zoom reflex lens and internal light meter making it very versatile. But as much as I love the Bolex, it's my 1977 Canon 814 (with its classic ahead-of-its-time 70s style and unequalled flexibility and functionality) which is my stock in trade for achieving a beautiful, well-framed and focused shot or sequence on timeless Super 8mm film.
The Beatles White Album
An original first UK pressing of The Beatles White Album. A wonderful record whose cover was designed in 1968 by artist Richard Hamilton, considered the father of Pop Art. It is in stark response to the lavish, psychedelic Sgt. Pepper cover designed by artist Peter Blake in 1967. The cover is completely white aside from "The BEATLES" embossed on the front along with a stamped individual number, ironically making each of the millions of copies sold a unique "limited edition". John Lennon "baggsied" No. 00001 according to Paul McCartney. Mine is No. 0308985.
Dr Strangelove poster
An original New Zealand poster for Kubrick's Dr Strangelove, or How I learned to Stop Worrying and Love The Bomb - a wedding gift and one of my favourite films.
Old sewing machine case
I keep my 45s in this when I'm DJing - it's the perfect size for a couple of rows of 7" records.
Photograph of local skaters
Photograph of skaters behind the Civic Theatre in Auckland circa 1993. I purchased this print from an exhibition recently held at Cassette 9 in Vulcan Lane. It was called Aotea Square (F***ing Ruled Back in the Day!) and was dedicated to the thriving skate scene of the 1990s in and around Aotea Square - with Terry Stringer's recently removed Mountain Fountain sculpture as the focus providing unique banks and walls to skate. I love the shot because of the era it captures both in terms of street skating's evolution in the early-mid 90s (and the stylish backside ollie off the ledge), and also in terms of the cultural development of Auckland city at the time. I think it's very sad not to have that little street behind the Civic any longer with shops such as Blue Beat and the wonderful Cafe DKD. It's worrying, also, to think that there is still a question hanging over whether the Mountain sculpture will return to its original spot in Aotea Square once the current refurbishments are completed.
Self Portrait in a Velvet Dress: Frida's Wardrobe
This book was a birthday gift for my wife, Cara. The book presents some of Frida Kahlo's beautiful and vibrant clothing, jewellery, shoes and head dresses - sealed in her dressing room for 50 years upon her death in 1954 - alongside photographs and paintings by Kahlo, many showing or illustrating her wearing the garments themselves.
Gibson SG 1972
I bought this guitar 15 years ago. It came with its original case and a quaint Gibson owner's manual which asks, "How was your attention directed to Gibson?: newspaper ad; magazine ad; radio-TV; dealer contact-mail". How about 75 years of Maximum R&B?! AC/DC's Angus Young and The Who's Pete Townsend are two of the SG's most famous players. It's a beautiful and timeless design with double "horned" cutaway which makes it easier to play and kind of evil looking, too.
Keith Richards' guitar pick
From the Rolling Stones show at Western Springs in 1995. A friend of mine was working production and grabbed it after the first night's show. It has "The Cadillac Brats" (which refers to Keith and Ron Wood) printed on one side and "An Ancient Form of Weaving" on the other (which, I imagine, refers to what they do when they play together).
"36" piece
A piece by my sister-in-law, graphic designer Jacinda Torrance of Verso Visual Communications. It's a photograph on canvas of a letterbox number, given to my wife and I on our 36th birthdays (which happen to be three days apart).