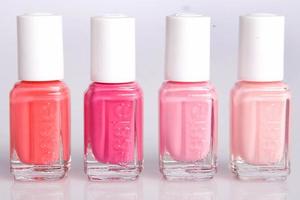 Summer makeup needs to be simple and wearable in the great outdoors. But it needn't be invisibly natural looking. A splash of colour is in keeping with the sunny season. Here's a few products just right for the light.
Essie Summer Collection mini polishes $41.50
Four petite polishes take pink from palest petal to vivid coral.
(Selected salons, The Department Store, Takapuna, or ph 0508 776 232 for stockists.)
Lancome Juicy Tubes in Hip-hop Apricot $46
These glosses have been around for a while, but that's because Juicy Tubes feel good on and Lancome keeps refreshing them with new colours and flavours, including this hot seasonal shade.
Christian Dior Capture Totale Tinted Moisturizer $138
Superior tint coverage that peps up the complexion. With Aminolumine which works to block the ageing oxidation process from a range that targets wrinkles, density and brightness.
Clinique Vitamin C Lip Smoothie in Pink Me Up $44
Antioxidant infused lip colour that offers a bit more coating than gloss. A good colour choice including this petal pink.
Wella SP Diamond Reflect Shine Finish $33
A little goes along way with this shine-enhancing spray, which helps tame flyaway ends and protects from UV. Light-reflecting particles give gleam. (From shampoo shops and selected salons.)
Estee Lauder Metallic eyeshadow in Aquamarine $48
Swipe on some colour with staying power and the shimmer of a tropical sea. Looks great with orange.
Becca Eye Tint in Lapis $55
Waterproof cream tint in a gentle range of colours. A little goes along way. (From Glamorpuss, Nuffield St, Newmarket or The Department Store, Takapuna.)
Smashbox Waterproof Shadow Liner Duo in Slate $57
Waterproof mascaras are commonplace, but eye makeup that works underwater is less common. This cream shadow liner duo is also crease resistant and an be used as eyeshadow.
(From Smashbox, Ponsonby Rd, and selected pharmacies. See www.smashboxcosmetics.co.nz.)
Yves St Laurent Palette Y $114
Forget the foundation by all means, but use a bronzer to enliven and even colour. This small compact is ideal to carry about.
Yves St Laurent Water Resistant Eye Shadow No. 3 $57
This bronzy-khaki metallic cream won't budge. You need to know where you want to apply it, because it dries fast, leaving little time for blending. The nude provides an excellent eye colour base.
Stockists: Brand counters unless otherwise stated.