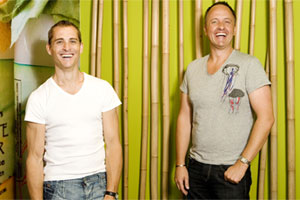 When Ponsonby locals Brett Humble and Blair Haddow escaped to the East in an effort to push pause on the frenetic pace of selling real estate, they never dreamed their holiday in Thailand would lead to them to take on even more responsibility.
They looked forward to languid cocktails by the pool in their luxurious Phuket resort, reading in the shade of a whispering coconut, and dining by the flicker of candlelight. They didn't think they'd come across an irresistible business opportunity.
"That's the last thing we wanted," laughs Brett.
However, they were enchanted by the sublime fragrances of the burning oils that were integral to the ambience of the resort - the zesty smell of wild mint in their bure, an alluring waft of ylang ylang as they sauntered down to enjoy a buffet breakfast, a hint of tangy tangerine as they entered the spa.
"Everywhere we went, there were gorgeous oils burning. We had to investigate further," says Blair.
What they discovered was a bamboo-lined store nearby, and a husband-and-wife team who'd been growing herbs and flowers and distilling their essential oils for 15 years.
Bobby Duchowny, an American documentary producer, spent many summers exploring Thailand. He had studied aromatherapy in the States but was fascinated to learn more from practitioners in the field.
"He was particularly interested in the healing properties of lemongrass," explains Brett.
Duchowny began selling his own aromatic offerings in Phuket's Chatuchak weekend market and, ultimately, set up the original Lemongrass House in Surin Beach with his wife Palita in 1996.
The pair quickly gained a global reputation as suppliers of spa-quality soaps, creams and oils, with an emphasis on creativity.
"What we liked about the Lemongrass set-up was that they were so community oriented," says Brett.
Locals were employed not only to grow the fresh ingredients but to hand-blend, make and label the range of products.
"Bobby was able to buy the specialist oil extraction machines that allowed this community to grow and thrive," he explains.
The raw ingredients came only from safe, renewable sources and the recyclable packaging ticked all the right boxes too.
Brett and Blair fell in love with the fragrances and the idea of an enterprise that had its roots in the earth and the ethical, so they decided to bring the concept home.
In June last year, they set up the first Lemongrass House retail store in Auckland's Ponsonby Rd: another followed that December in Milford and a third is in the pipeline. So much for taking it easy!
"We feel so lucky because not only is the product well-awarded (it appeared on the Conde Nast Traveller and New York Times hot list), but it's priced affordably," says Brett.
As complete converts, the two have immersed themselves in a world of scent which, they say, enhances a spiritually and physically uplifting state of being. In their Freeman's Bay apartment, they try out as many of the bouquets as possible.
"There are around 90 oils we could draw on, but we've opted for only 20 in the shops - those that are likely to sell well in New Zealand."
Brett, who practices Bikram yoga at least four times a week, can't get enough of the energising wild mint. Blair fondly remembers the first time he used the pomelo bath oil, a Southeast Asian citrus fruit, that's not too flowery. "It made my skin feel amazing," he says.
With shampoos, conditioners, room sprays, hand creams, massage oils, candles, incense and shower gels, there isn't a single body part or home surface that remains untouched by the aromatic action.
"We've always had fragrance in our lives," says Blair. "We like to spray our linen and towels with it and occasionally our cars. The oil component is of such high quality, you can smell it up to a week later."
Some customers, who are used to lesser blends, may be surprised by the potency. That's due to the freshness (with a shelf life of only three months, products are air-freighted in from Thailand) and the picking process. "Our rose and jasmine, for instance, is picked just before the flower bursts forth," explains Brett.
Deliciousness pours from the doors of the retail stores where the decor is a melange of Asian influence and modernity. In summer, those who have had too much sun can be soothed by the natural after-sun mists in aloe vera, blue chamomile and cucumber. Plus try pink grapefruit and papaya lip balm to transport yourself to the tropics.
But isn't this new venture adding a stress factor to deal with in between marketing houses? On the contrary, insists Brett: "It's allowed us a more holistic approach, a shift in direction towards creating a better lifestyle."
* Visit lemongrasshouse.co.nz for more information.