Address: 10-12 Federal St
Phone: (09) 359 9113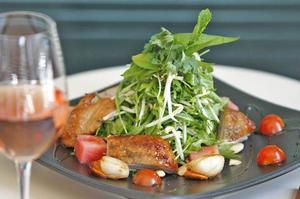 Central Auckland is not celebrated for its visual beauty. But there are few more gruesome aspects than the view from the Wolfe St side of Rice, with the decaying Challenge House a showcase for the sort of graffiti bandits who give the lie to the idea it is an art form.
Presumably the customers don't look out much. Probably because I used to work nearby, I have always tended to think of Rice as a lunch venue, although I had heard good reports of its dinner performance.
Its current summer menu recognises a more informal approach, with just one dinner/lunch listing split into what they describe as "small tastes and street food" and then mains all also available in entree sizes. This provides considerable flexibility and we thought of just assembling a small battery of different dishes.
There is always, however, a difficulty on this route in that a taste in some places requires a microscope to be detected and in others a couple of their smaller dishes combine into one whopper meal.
We were kindly advised that two of our proposed choices would, together, test a stern appetite so we mixed and matched with discretion.
Under executive chef Kate Fay and head chef Kazuya Yamouchi, the food emphasis remains eclectically oriental, dependent on good local ingredients.
Typical are the "small taste" offerings of vegetable tempura with orange ponzu and wasabi aioli and the rice-coated crispy chicken, this time with a masala aioli.
From these we chose the grilled rare beef with oriental dressing. This was routine but good, with the beef delivered in slices considerably thicker than a conventional carpaccio. Being greedier, I started with the laksa fish of the day hotpot which was probably the standout of the evening.
Laksa is one of those dishes which turns up in hundreds of variants ranging from a thin weedy soup to a fish-flavoured coconut porridge. Rice's version was spicy without being crude and of a respectable consistency and the choice of trevally, a comparative rarity in commercial kitchens, was inspired, with the meaty texture matching the broth. This came with the Malaysian-influenced nasi lemak rice salad and udon noodles and made a first course of substance.
The first of our main choices should probably have been the outstanding dish of the night, Rice's signature roasted duck with scallops, and a watermelon cashew nut salad.
It's hard to go wrong with proficiently cooked scallops and duck - and they were. But there was a lot of salad and the palm sugar and lemon grass dressing was a little sweet for our taste, although if you see palm sugar on the menu you should take notice.
My main course of Hereford beef was similarly well cooked, as ordered, and with a lively ginger and garlic relish and black sesame jus. Some of the desserts demand customers with a particularly sweet tooth.
We ventured into this range with success with the soft-centred chocolate pudding, which came with caramel sweetcorn ice cream and mandarin jam or, as I prefer to think of it, marmalade. I had the strawberry tart with vanilla custard and ginger icecream, which turned out to be a sort of mille feuille and was pleasant.
The wine list is a well-balanced range of local and imported with a fair selection by the glass. The service was of the lunch variety, efficient and well-mannered if, perhaps, not wholly experienced and Rice remains a comfortable and civilised place if you ignore the view.
None of the cheerful clientele seemed to notice anything, possibly being too busy confronting that eternal mystery of why young women of robust physiques so often pick clothes just a little too tight.
Rating out of 10
Food: 8
Service: 7
Value: 8
Ambience: 6
Our meal: $186 for one small taste, one entree and two mains, two desserts and four glasses of wine, plus a dessert wine
Wine list: Pretty extensive and not outrageously priced with a fair selection by the glass.
Verdict: Consistently sound food with a distinctive approach. Sensible prices and comfortable surroundings.