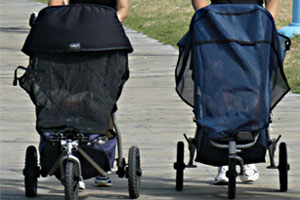 The leader of the UK's Liberal Democrats, Nick "Calamity" Clegg, has found himself offside with parenting "guru" Gina Ford, after an interview in which he blasted Ms Ford's advice for parents of newborns.
According to stories out of the UK this week, Clegg had struck up a conversation with a female journalist, there to interview him about his party's political independence.
Prior to the political interview, the journalist found out the MP, a father of three, had been up all night with his 10-month-old and suggested Gina Ford's rather stringent advice for getting newborns down to sleep.
To which erupted a volley of vile about Ford and her methods, which Clegg likened to "sticking a child in a broom closet".
Quite why or how this supposedly off-the-record exchange came to be headline news I don't know, but it hit the newsstands as Clegg daring to take on a parenting "expert" who has sold over two million copies of her Contented Little Baby series in England alone.
Gina Ford books also sell well in New Zealand.
Advocating controlled crying, a strict routine of feeding, eating and sleeping each day, and not cuddling a baby to sleep while feeding, it has worked very well for thousands of working mothers who simply cannot find the time to do everything on demand.
My mother in law, a famously efficient woman, gave me the book when my son was very young.
I could see the logic in what was being proposed, and thought it would work well in most circumstances. But I simply couldn't stomach controlled crying, and furthermore, didn't work outside the home at that point and didn't really need to get everyone into a strict routine (I was probably too lazy to bother with instituting routines as well, I guess).
Gina Ford's detractors call her methods cruel. They point out she has no children of her own, although I'm not sure this automatically disqualifies her from giving advice.
She is, however, litigious, and will sue when she feels anyone is defaming her.
Perhaps it was that that caused the usual mealy-mouthed retraction from Nick Clegg - "we are not seeking a row with Gina Ford" his statement declared.
Her response was genius.
"What is sad about this statement is that it comes from a supposedly intelligent man who would have us believe that he is capable of running Great Britain," it ran in part.
Interestingly, comments on the Clegg/Ford exchange would tend to indicate the pendulum has swung back again to, where possible, demand feeding, co-sleeping and other hippy-esque mothering techniques.
Which probably helps further the bind working mothers feel themselves to be in, unfortunately.
On the web:
Gina Ford tells Nick Clegg: You're being childish - The Daily Mail

Down with the nursery fascists - The Daily Mail
Who gets your vote in the baby debate: Clegg or Ford? - The Times