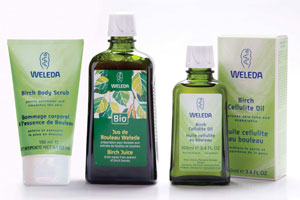 Weeks of sun, sand and wind can turn skin red and rough and hair tangled and torn. Repair the damage with a beauty regime to restore much-needed moisture from head to toe. Gentle exfoliation will help remove dry and patchy skin, and parched pores will thirstily soak up oils, body butters and conditioners.
You needn't spend a fortune on products - sea salt and a good plant-based oil can combine to sort out scaly skin, but for a treat, try something a bit more pampering and look out for active ingredients rich in anti-ageing antioxidants.
And remember, prevention is better than cure so always wear sunscreen.
Weleda Birch Body range kit, $60
Stay in shorts shape inside and out with these three cellulite-targeting body products from Weleda. The Swiss company uses birch extract in a body scrub ($19.50), a cellulite oil ($32.50) and a juice ($24.90) to help tackle those orange-peel places by exfoliating, massaging and detoxifying.
The trio is being sold for a limited time in a discounted kit.
(From health food stores and selected pharmacies. For stockists see weleda.co.nz)
Pure Fiji Dilo Rescue Body Spray, $43
This plant-based lotion is now available in a mist-on formula. The hardy dilo tree clings to the Fijian coast drawing nutrients from the sea, its oil used topically in villages. With aloe it offers effective, cooling non-greasy hydration with a definite damp grassy smell.
(From selected salons and spas. Ph 0800 7873 3454.)
Clarins After Sun Gel, $51
This soothing gel rehydrates skin to help prolong your tan. Like all Clarins sun products it contains ingredients aimed at countering the harmful effect of the free radicals that sun exposure activates. Sunflower extract reduces redness, watermelon hydrates and vitamin E helps maintain condition, with cardamom lending radiance to a natural tan. If you want to give nature a helping hand, use a Clarins self-tanner from the suncare range.
(From Clarins counters and selected salons.)
Avalon Organics Hand and Body Lotion, $21.99
With an invigorating grapefruit and geranium aroma, this generously sized lotion mixes sunflower, flaxseed and coconut oils for a rejuvenating dose of lipids. It's free from artificial colours and fragrances or mineral oils. And it doesn't cost the earth. Avalon lotion also comes perfumed naturally in these other versions: olive and grapeseed, lavender, lemon, peppermint, rosemary, ylang ylang and aloe unscented.
(From Smith & Caughey's, selected pharmacies and health food stores. Ph 0800 118 3111 for stockists.)
Sugar Baby Suntanned Sweeties Island Glow, $24.99
If your tan is looking a bit patchy, self-tanner without a decent exfoliation will make matters worse, so use a wash-off shimmer product instead to coat your legs with a convincing darkish golden glow. The Sugar Baby retro-look range from Australia with monoi oil is especially appealing; it's natural looking and hydrating.
(From Smith & Caughey and selected pharmacies.)
True Solutions Face & Body Scrub, $80
A natural alternative that is gentle enough for face as well as body, regular use of this scrub will reveal more radiant skin. With bamboo stems, green tea, sunflower oil, aloe vera and sea lettuce extracts. The company also makes a luscious body butter.
(For salon stockists ph 800 575 565.)
Palmer's Cocoa Butter Formula Skin Therapy Oil, $15.95
This mini 60ml bottle slips easily into a toilet or overnight bag and targets scars, stretch marks and uneven skin tone as well as dry skin. It absorbs readily and is non-greasy. In addition to coconut oil, rosehip and sesame oils and vitamin E bring essential fatty acids to the skin.
(From selected Farmers and pharmacies.)
L'Oreal Solar Sublime After-Sun Nourishing Balm, $32
Hair masks have been popping up in many ranges over the last year, with this one aimed at helping neutralise sun damage. Use instead of (or alternating with) conditioner to give hair a moisture boost.
(From shampoo shops and selected salons.)
Wella Bio Touch Colour Protection Shots pack, $60 (or $10 each)
These little doses of nutrients, including apricot oil, come in packs of six and help seal in moisture to the hair shaft, protecting from colour fade. Apply to towel-dried hair after shampooing and leave in.
Dr LeWinn's Medic Moisture Restoring Cream, $44.90
The Medic range is for sensitive and dry skins, including those troubled by psoriasis and eczema. It's free of fragrance and many synthetic ingredients that can cause irritations. This cream is richly emollient, with shea butter and plant oils, including tamanu oil to relieve redness and with glycerin and sorbitol to encourage moisture retention in the skin.
(From selected pharmacies, for stockists ph 0508 375 394.)
Elizabeth Arden Ceramide Gold Ultra Restorative Capsules, $119
These individual anti-ageing capsules contain a single dose of serum to smooth over face and throat. Ideal for holidaying, a larger sized jar contains two month's worth, but you can take along just as many as needed to smooth and firm tired facial skin. I like that after applying the silky film across the face there's just enough left to apply a little to the back of the hands.
(From Elizabeth Arden counters.)