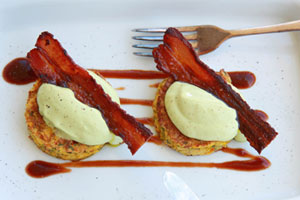 One of my earliest childhood memories is of being about 5 and having mum serve up what seemed to a wee boy like me a rolling-pin-sized corn on the cob with those small forks in the ends.
When I tried to tackle that monster my face became smothered in salty butter and juices. Messy but blissful.
Five years later I saw the corn cob in a new light. I'd lost a swingball bat and as a replacement found a long thick corncob that I could use to bash the ball. How's that for some good Kiwi ingenuity?
These days, as a chef, I look for fully ripe sweetcorn which has bright green moist husks with stiff dark silk - when the kernel is pierced it should ooze milky juice.
The most important rule when harvesting sweetcorn is to use it that day, because as soon as the corn is picked the sugar begins its gradual conversion to starch, reducing the sweetness. It loses about 1 per cent of that sweetness for every hour it's stored. Once the husks and silk are removed, lightly scrub the corn with a brush.
And if it really is impossible to cook it straight away - definitely don't keep it longer than three days - add two teaspoons of honey or maltose to two litres of water and store it in that.
The cultivation of corn was started by Native Americans more than 8000 years ago, with the first archaeological evidence of domestic corn found in caves in Oaxaca, Mexico.
And it's Mexican street vendors who really have a handle on cooking corn. Their main tip is that the cooking time depends greatly on the variety of corn and how much sugar it contains - the more sugar, the less time it will take to cook.
These guys store the corn in tubs of warm water, and when it's bought they rub the cobs with lime wedges and a dusting of sea salt.
The reason why they so often serve corn with beans is that both are deficient in essential amino acids - each lacking the one which is abundant in the other. So, eaten together they provide a balanced diet.
The two most popular varieties of corn are the white country gentlemen, which has small sweet kernels, and the yellow golden bantam, with its larger and more fully flavoured kernels. The white and yellow cobs found in New Zealand are the hybrid butter and sugar corn.
Here are a few quick tricks to try whatever type you're cooking with. Prick the cob with a fork then soak it in warmed Thai sweet chilli sauce and lime juice for two hours, pat dry, rub with avocado oil and barbecue. Or roll back the husk, remove the silk and smother the corn with fresh tarragon and black-pepper butter, then pull the husks back, secure, and grill for about seven minutes.
At this time of year there's no excuse for not tucking into a stack of these goodies. Buy them from a roadside stall and, if you do buy them at the supermarket, avoid those wrapped in plastic.
Succotash
Corncakes with avocado whip and bacon