Herald Rating: * * * *
Address: Viaduct Harbour
Phone: (09) 356 7249
Website: soulbar.co.nz
Cuisine: Modern cuisine, emphasis on seafood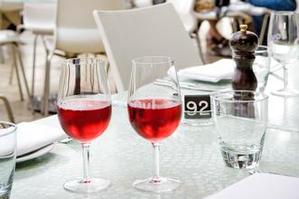 A chance meeting with an old flatmate led to a date being set for us to dine together and catch up on each other's lives. When we flatted together, he was a med student and forever inventing things. Since then, he's become a world-renowned surgeon and inventor of bits of medical equipment that have made him, well, very wealthy. He now dedicates his time to creating sculptures and other fantastic artworks.
I dedicate my time to eating.
Our destination is an award-winning restaurant in a touristy part of town. Soul Bar and Bistro is situated in the heart of the Viaduct harbour, a stone's throw from the moored water taxis and superyachts. Whether inside or out, Soul manages to create an atmosphere that feels, well, flash. The old flatmate and I had joked over the email whether we'd wear white trouser suits and drape ourselves in bling to fit in with the crowd. Had we been brave enough we wouldn't have been out of place, but we didn't feel uncomfortable in the more casual attire we'd settled on.
Our table on the terrace felt a bit crowded but the view was worth it to put up with the crush - twinkling lights, water traffic and great people-watching.
Soul features the same menu for lunch and dinner and it's a winner. With an emphasis on seafood, local ingredients feature heavily and each dish is described in plain English so you have some idea of what you're in for. I like that.
For my starter I charged right in with buffalo mozzarella and marinated tomatoes. The mozzarella, with its milky brine and spongy texture, took me back to the mozzarella factory I visited in Naples where I tasted it straight from the vat - squisito. Paired with tomatoes, fresh basil and olive jelly, it was a delightful starter to get the tastebuds dancing.
The flattie started with marinated scampi tails with green gazpacho dressing and pickled cucumber and he was very happy indeed. What the scampi lacked in size, they made up for in flavour with their sweet, perfectly cooked flesh. Ribbons of pickled cucumber and green gazpacho dressing were a clever match and, though they appeared to be simple preparations, the layers of citrus and herb tones hinted at something more complex than they appeared. Such is the style of head chef Gareth Stewart. We'd been informed by our wait staff that Stewart was not in the kitchen on this night, but it appeared his team were following his orders to the letter.
One of the aspects of dining at Soul that we both commented on was the wait between courses: just right. These days restaurants can throw food at you so fast you wonder why they don't just offer a drive-through. When our mains did arrive we continued to be impressed with the quality of ingredients used, the careful preparation and great presentation. My hapuku had promised "petits pois a la francaise", which turned out to be baby fresh peas suspended in a light creamy froth, and smoky pancetta. Hapuku is a good, steaky fish, so can stand up to the boldness of pancetta.
Flattie was swayed by me to order the pork belly. This came with an inventive braised shoulder croquette, which made the dish. I do love it when a chef considers doing meat two or three ways - it's the sort of showing off I'm in favour of.
As conversation turned to his inventions, our flatting days and how our lives were unfolding now, we ploughed our way through two rich desserts, a milk and dark chocolate terrine and a baked vanilla cheesecake with summer strawberries. Neither were outstanding but perhaps we were just letting the lacklustre attitude of our waiter impact on our enthusiasm. He gave us nothing all night. More of a delivery person really.
There's a buzz and a hum about the Viaduct Basin area and Soul is the perfect place to enjoy it. It's a slick operation where you are guaranteed world-class food and an ambience to match. We left feeling enchanted by the whole package and vowed to return in matching head-to-toe white linen and sporting spray tans to die for.
From the menu: Buffalo mozzarella & marinated tomatoes $20.50; Marinated scampi with green gazpacho dressing $26.50; Grilled hapuku fillet with smoky pancetta $36; Pork belly with braised shoulder croquette $31.50; Rocket and parmesan $10.50; Milk and dark chocolate terrine $16.50; Baked vanilla cheesecake with strawberries $16.50.
Drinks: Fully licensed. We enjoyed glasses of Moet & Chandon Brut Imperial Reims N/V $19.50, Wooing Tree Pinot Noir 2007 $15, Cloudy Bay Pinot Noir 2007 $17.